Technorati tags: Missing Persons, Chin Kha Mun, Public Service


Hat-tip to Rocky.
What is it about Ipoh and missing persons? It's a question so perplexing that even Howsy probably couldn't answer. The last missing person from Ipoh, Tang Yuan Kee, reported on this blog over a year ago, still remains missing (as far as Walski knows).
And today, we have yet another missing person - a very young 12-year old Chin Kha Mun (or Kha Man).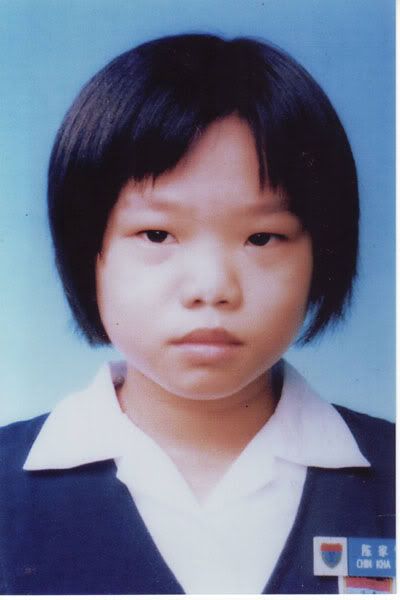 Chin Kha Mun (or Kha Man), aged 12 - missing since Nov. 1, 2007
The following has been taken from a blog, Find Kha Man, set up in wake of this latest case. Updates will also be found there, as and when.
Chin Kha Mun is a girl from Gopeng Perak. She was last seen on 1st November 2007 visiting a local school friend at about 2PM but when family checked with the friend at around 5PM she was not to be found except for her abandoned bicycle. Kha Man is 12 years old.

Any one with any information should call either Ms. Chew at (012) 526-8862 or Mr. Chin at (012)660-7722.
The first thing that comes to mind when hearing about cases like this, is of course the fate of Nurin. And heeding the call by Rocky to hasten the Nurin Alert initiative, Walski believes that a network of concerned bloggers can also help. And in that, Walski is doing whatever little he can here.
Let's all pray that little Kha Mun is found unharmed, soon...