Technorati tags: Missing Persons, Chin Kha Mun, Nurin Alert, Public Service


Related post: Missing: Young Girl, aged 12
... not the way Walski would've have wanted Kha Mun to be found.
Walski was first alerted of this via Rocky's comment to the previous post, which linked to Msiaman's blog specially put up for Kha Mun.
Then this morning, Walski sees this in the news.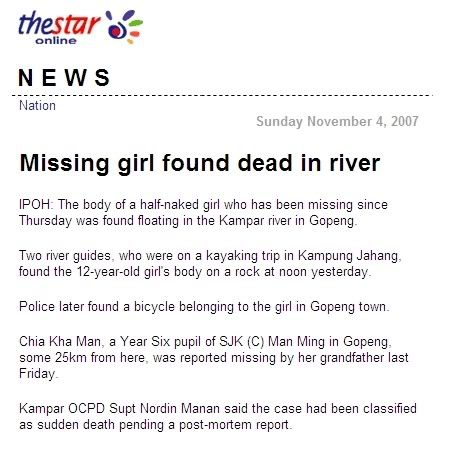 Body of "unidentified" 12 year old found
And while the news report doesn't identify the 12-year old by name, Msiaman provided confirmation that this news report does indeed pertain to the missing, now found, Kha Mun.
(Msiaman's confirmation, and more, in the full post)
The following update was posted at Msiaman's blog late last night, at approximately 2330pm:
It is indeed a sad finding that Kha Mun's body was found drown in a stream a few KM away from the small town of Gopeng. While awaiting post-mortum and other details of the sad incident, the family of Kha Mun would like to thank those who played an active role in helping to locate her as well as the care and concern for her well being.

Let us join the Chin family to mourn for the lost of Kha Mun who is too young to die at 12.
Closure. But not the closure that Walski would've wanted, however. At present, pending the post-mortem findings, there is no indication whether or not any foul play was involved. Walski's thoughts and prayers go to the Chin family, and condolences on their terrible loss.
No parent should bury their child, and to lose one under such circumstances... undescribable pain.
Walski will post any related updates and/or findings as and when they become available. Although it was a bit too late in this instance, Walski feels that there is value in putting the word out about missing persons, children in particular, via a network of concerned bloggers - and Walski's thanks to those concerned enough to mention this case.
Final Update @ 0410 hrs November 5 - The Star has published a follow up, stating that the death of Kha Mun was not related to any sexual assault. Read the full article here.