Technorati tags: Humor, Music, Ben's Bitches, Mamak Conspiracy, Album Release Party, Paul's Place, Panda Head Curry?, Resurrection, Tachyons


Related Posts:
► It's a Conspiracy!
► Mamak! Conspiracy satu!
As you may, or may not, have heard, the pan-global, intergalactic supergroup of the millenium, Panda Head Curry? were tragically killed in a fictitious mysterious fire in Balakong, just over a month ago. Walski was so distraught that he couldn't even bear to report the tragic news.
So fictitious mysterious was the fire, that it looked almost exactly identical to another fire, which Walski had reported earlier in Sungai Buloh. Fiction, it seems, is stranger than fake truth... or something to that effect.
Even more mysterious is their sudden reappearance... in the future!
***MESSAGE FROM THE FUTURE BEGINS***

Woo hey kiddies!

This is Lord Panda from Panda Head Curry? we're in the future. Surprised? Well, you shouldn't be, after all, we're more highly evolved than you carbon based bipedal homo sapiens. We have technology that would make your head spin. Spin, like the top your space flight participant's playing with on the ISS.

Anyways, General Panda and I were busy evacuating our medical experiment guinea pigs, orphans and wretched people from the burning human experiment center Orphanarium. Just as the ceiling collapsed, we hurled ourselves into the future, using our Space/Time machines cleverly disguised as underpants.

We have seen the future, and it isn't pretty, just like the past.
(read the rest here)
What's even less pretty than the future, that looks like the past present, is that Panda Head Curry? will be beaming their sorry asses back to our time-continuum, to perform in support of the long awaited album release party of...
(it's their party and they'll show up if they want to, and more, in the full post)
Finally... the long awaited album release party for MAMAK CONSPIRACY
Ben's Bitches Mamak Conspiracy!
Yeah... and about damn time, too. The delay, it seems has stemmed from the fact that the album was banned... or so says Disarseter Records, via their news release e-mail that myAsylum received this morning.
Hello sickos!... And old folks who like Elvis!

Come Saturday Nov 3rd, it's a double celebration with the unleashing of Ben's Bitches new album Mamak Conspiracy and Paul's Place 6th anniversary.

The ban on the new album by the Ministry of You Cannot Enjoy This, since it's original release in January 2007, has been finally lifted and the album can now be found in music stores around the Klang Valley. (Namely: All Rock Corners and Auntie/Uncle Shops).

6 years ago, Paul's Place opened it's doors to these poor bastards who eventually broke all the equipment there and a couple of urinals. Returning the favour once again, the band has decided to throw a free gig at Paul's Place for all you freeloading scum to enjoy.

Can I get a free CD? NO! But you can come and watch us without paying. And for those of you who wouldn't pay to watch us anyway, you should still come because...

i) we got a new guitarist
ii) it's also Paul's Birthday
iii) our friends performing with us are Panda Head Curry?, Ciplak, Onani and 360 Degree Head Rotation.

The all-important event 3W's :
When: November 3rd, 2007 (Saturday)
Where: Paul's Place, Jln Klang Lama (see map below)
What-Time: 8pm onwards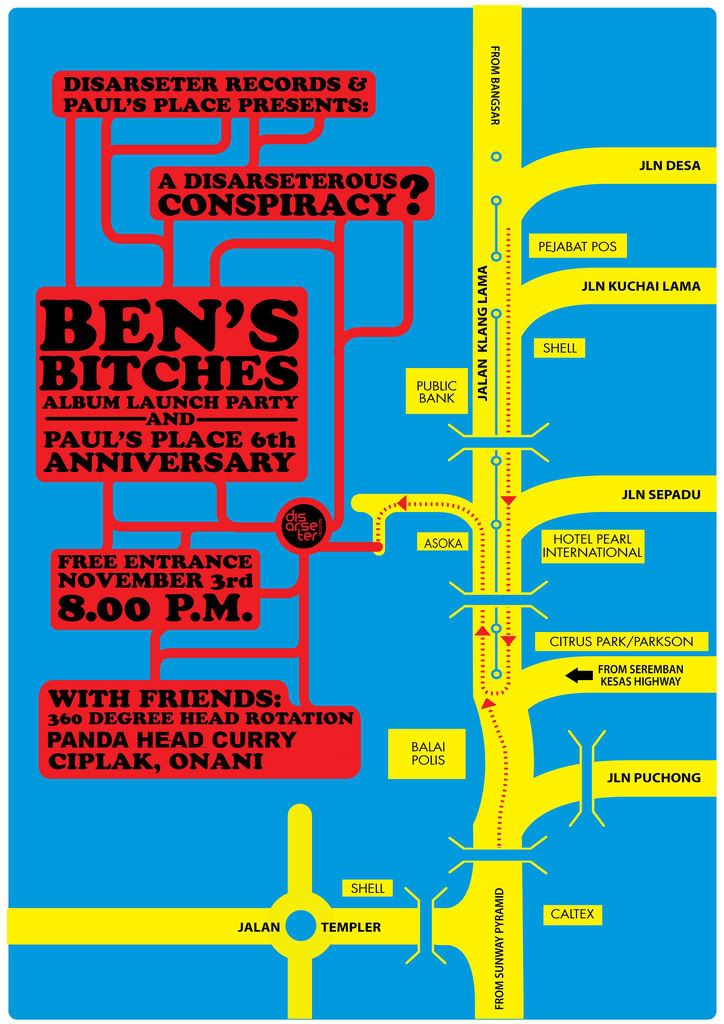 How to get there...
This once-in-a-lifetime freebie is by invitation only. To get invited, you need to pledge your first-born male child to Cthulhu... Naah... just kidding. All you need to do is send an e-mail, with your FULL name to phc@disarseter.com - and if there's more than just yourself in your party, be sure to include their full name(s) as well.
The line-up for the evening, as of posting this, is expected to be:
► Panda Head Curry? (from the future)
► Ciplak
► Onani
► Ben's Bitches
► 360 Degree Head Rotation
Also, there is this possibility that there will be a screening of the ground-breaking, commie-loving documentary by Fahmi Reza, "Sepuluh Tahun Sebelum Merdeka". As of posting-time, the screening is yet unconfirmed. Panda Head Curry?, although in the future, couldn't tell if was shown or not, either. Dumbasses.
In any case, the resurrection of PHC is now confirmed, and if you haven't seen them yet in the past, be sure to get yourself invited for this Saturday, before they zapp themselves back into the future.
Which looks exactly like now... but only that it's in the future. Tachyons be damned...