Technorati tags: Low Taek Jho, Jho Low, Jet Setter, Front Page News
If there's one certainty that Walski can think of, in light of Malaysians' reaction online to the story of Low Taek Jho, is that we really have a very busy-body culture. Kay-poh to the max.
And probably among the guys is a tinge of envy as to the kind of jet-setting that Jho Low gets to do. Guys will be guys, especially if Paris Hilton is involved.
As if there was nothing else of greater importance that happened, The Star decided to front-page their "World Exclusive" interview with the 28 year old in today's edition.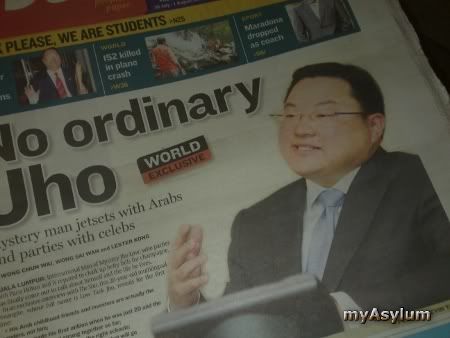 Which Walski supposes was only to be expected – "world exclusive" and all.
Admittedly, Walski did get a print copy of The Star today – the first time in who-knows how long – for research purposes, naturally, since that was the only way to read the interview (a nice ploy to sell papers – don't publish something online).
The most interesting bit was this phrase that kept coming up, while Jho Low clarified some of the reports about him in the press the world over. And that phrase was factually not true.
(plausible unfactuality, and more, in the full post)
In various permutations, the phrase popped up during the interview at least three times. So, if something is factually untrue, it goes to reason that the exaggerated reports were, therefore, fictitiously plausible.
To his credit, however, Jho Low did "clarify" quite articulately. Call 'em plausible denials, if you must. Walski must say that he clarified the various situations thrown at him during the interview quite well indeed.
The thing is, Walski personally couldn't care less how much Jho Low spent (or didn't, as he claims) on entertainment and what not. Why? Because it's his own moolah. And that of his high-flyer buddies, and clients. Different case if it were a trip to Disneyland with the family (and maid) using public funds – in which case, Walski would be really pissed off.
Low Taek Jho, by his own admission, works hard and plays hard. Even if it were play harder, as some have alluded to on Twitter and elsewhere online, so what? Jho Low, as far as Walski is concerned, earned the right.
Now, gossip tabloids do have this tendency to exaggerate stories and situations, and make mountains out of the smallest molehills. Pretty much in a similar vein the way Utusan plays issues up sometimes, even to the extent of making up stuff along the way. Sometimes.
The same, it could be said, with Mastika, The National Enquirer, The Sun (as in the UK one), or the now defunct Weekly World News… all of which carry stories with varying levels of truthiness, that can range anywhere from 100% to zero, and any permutation in between.
Target? The gullible. And trust you Walski, Malaysia is full of 'em. He's personally come across more than a handful, and he's sure that there are many more out there.
Add that to a kay-poh culture that many Malaysians seem live by, Jho Low's "escapades", insignificant as they are in the larger scheme of things, can be important enough to become front page "news" in a reputable national daily.
But that's just the way the world works sometimes – insignificant but interesting news just grabs us by the proverbial nuts. Why? Walski's theory is that underlying the combination of gullibility and kay-poh-ness, we've become a nation that desperately wants an escape from the gloom and doom that our everyday existence has become. Justified, sometimes, as that gloom and doom may be.
That, and the plausibility of the unfactual but exciting things we hear from time to time. And because these things are plausible – it's not like anyone alleged Jho Low to be an extraterrestrial or anything like that – and in truth fit Low's jet-setting profile, we just get reeled into a world more exciting than our own.
For Walski, as he's mentioned, it's really no big deal – it's Jho Low's own money, and Jho Low's entitled to do with his what he pleases…