Technorati tags: Comments, Comment Spam, DISQUS
Remember the post about a month ago pertaining to comments? Apparently the spammers who've been leaving unnecessary comments are actual human spammers (or very intelligent bots). Meaning that the authentication bit didn't work. And so, Walski has no choice but to implement comment moderation.
But instead of using Blogger's comment moderation facility, Walski has decided instead to implement an external commenting system, which hopefully will solve the spam problem once and for all. The new commenting system Walski has decided to implement is from DISQUS, and was selected after looking at a few commenting systems.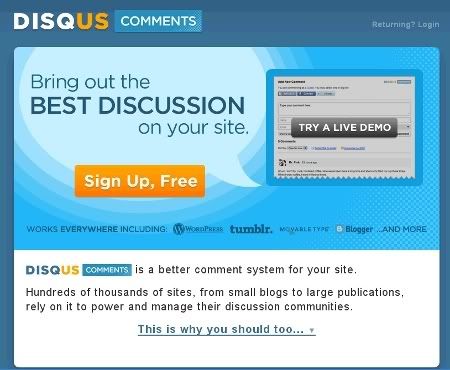 Because of this change, there are a few minor changes that Walski should let you know about. For one thing, the comment entries and comment window will now only appear on the full post, and not on the truncated front page view. 
(commenting with DISQUS, and more, in the full post)
Commenting with the DISQUS system is done on the post itself, and you may choose to post as Anonymous, or log in through either OpenID, Twitter, or Yahoo!. Alternatively, you can sign up at DISQUS (it's free), which will then allow you to keep track of your comments not just on this blog, but on any site that uses DISQUS as their commenting platform.
At the moment, all old comments left via the Blogger commenting system aren't visible, as Walski has been having some problems importing them into DISQUS. He's sent a help desk ticket on this problem, and hopes that it will be resolved soon.
Do try to leave a comment to this post – it should work pretty much like any other commenting system. You are able to use simple HTML tags for formatting – so far, Walski's tested it with <b>, <em> and <a> tags, and they seem to work just fine.
As he mentioned in the earlier post, this move to amend the commenting policy is in no way Walski's excuse to censor any comment. He's been pretty liberal as far as comments go, and no changes are expected in that department any time soon.
Finally, before he forgets, Walski would like to say thanks to reader Haris Ali for suggesting the use of DISQUS – Walski, so far, likes!