Technorati tags: In Memoriam, Ian Curtis, Joy Division, New Order

Joy Division may not exactly be a household name in Malaysia. And for most music fans in this country, neither would the name Ian Curtis.
This, too, is an unconventional obituary. For one thing, it is, shall we say, belated. By about 29 years.
For it was today, almost 30 years ago, that Ian Curtis took his life. Just before the group was to have gone on their first American tour.
There is one recent film that documents the life of Curtis, Anton Corbijn's 2007 film Control, which, unfortunately, Walski hasn't had the opportunity to watch. Yet. Yes, he owns a copy, but hasn't really found the right time, nor mood, to watch it.
Maybe tonight. Or sometime this week.
Twenty-four, though, is too damned young an age to die, no matter under whatever circumstance. And it's all the more tragic when it's suicide.
Tragedy, though, sometimes has a silver lining. Curtis' death propelled Joy Division into music legend. The album Closer, released after Ian Curtis' death became the group's highest chart achievement, together with the single Love Will Tear Us Apart, arguably Joy Division's most well-known song.
(Curtis remembered, tribute idea, and more, in the full post)
Perhaps next year the KL indie music community can do something to commemorate Ian's passing. It'll be the 30th anniversary, and a more apt time to do a tribute show. Walski remembers that a 25th anniversary tribute was done 4 years back at Paul's Place.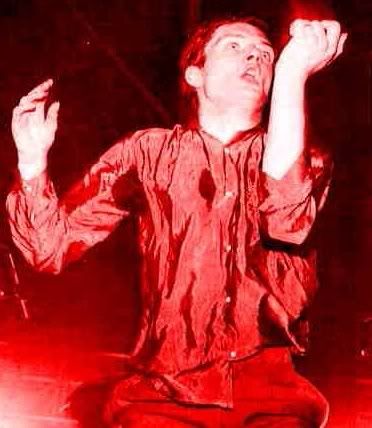 Walski's pretty sure that at least one person he knows would be interested. What say you, The Lord Panda? We'd have a whole year to prepare for it, and Walski's sure that there will be folks willing to help out with putting this together. As long as we don't do the event at Zouk KL, Walski's pretty sure that the response would be good.
In any case, Ian Curtis suffered from epilepsy and depression, both factors possibly contributing to his suicide, coupled with the stress of rising to fame, and an affair he had with a journalist.
It's impossible to imagine what popular music today would be like if Joy Division had not been around. While not exactly punk rock, their music combined the energy of punk with an esoteric atmosphere, and pre-goth gloom. At least from Walski's point of view. They became the inspiration for many other music acts to come after.
From the ashes of Joy Division, rose the more successful New Order, consisting of the 3 surviving members – Bernard Sumner, Peter Hook and Stephen Morris – and later joined by Morris' girlfriend (and later wife) Gillian Gilbert. This configuration would survive until 2001, when Gillian left the band for family reasons. She was replaced by Phil Cunningham, who's been with New Order since.
But the big change to the line up (apart from the few periods of hiatus) occurred in 2007, when Peter Hook left the group. New Order, still intact today, now operates as a 3-piece.
All the original members were involved with Corbijn's Control, contributing to the music used in the film. And in a way, paying tribute to their fallen friend, Ian Curtis.
If he were still alive, Curtis would have turned 53 come this July. But his tragic passing, sad as it was, did serve a greater purpose of elevating Joy Division, and Curtis himself, into the realm of rock legend.
And Walski, like many others, remembers him today, and thanks him for playing his part in shaping the world of music.
Wherever he may be, Walski hopes that his troubled soul is finally at rest.