Technorati tags: Humor, Satire, HENN, PAS Youth, Inul Daratista, Entertainment Ban


PAS Youth Issues New Entertainment Guidelines
myAsylum has an exclusive scoop on proposed guidelines to protect Malaysians from any semblance of excitement and fun - reporting straight from Hell, and soon-to-be Hell-on-Earth, Malaysia. Another episode in the continuing series from the Hell-on-Earth News Network (HENN)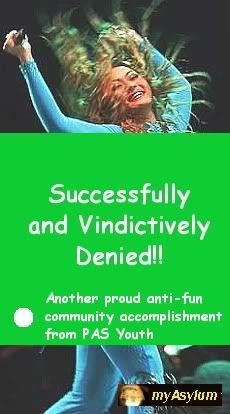 Ecstatic over their success in protecting Malaysian youth from the evils of dangdut and Inul Daratista, and their support for Civil Service promotions based on piety (as opposed to capability), PAS Youth (aka Baby PAS) has now plans to issue new guidelines to protect Malaysians at large from any unnecessary fun and enjoyment.
A secret communiqué intercepted by myAsylum's CRAP (Cybernetic Remote Autonomous Pararoaches) recently revealed grandiose plans to save Malaysians from the evils of entertainment, particularly music, or anything deemed to be fun (which naturally leads to moral decay). Among these plans, the communiqué revealed, includes new auditorium designs, and a stricter dress code for artistes, should they be deemed "allowable".
Also revealed was a plan to prohibit any form of non-Halal entertainment to Malaysia, the first success being the prevention of the evil Inul Daratista from performing anywhere on Malaysian soil. HENN anticipates future protests and attempts to ban any foreign artistes that do not bow down to PAS Youths' guidelines. HENN's guess is that the next victim is likely to be Avril Lavigne, who's scheduled to perform in Malaysia on August 29.
To kick start their campaign, PAS Youth also plans to bring a well-known one-hit wonder rock band from the land of their inspiration, Afghanistan.
(blue burkas, Malaysia's future national costume, and more, in the full post)
A section of the secret document also disclosed guidelines for sex-segregated concert auditoriums, burka dresscode, and a list of acts to be put on a proposed banned-forever list. The list itself, however, was not included - it is presumed that the list has yet to be put together, but is believed that it will include any and every music act deemed to have a potential to cause Malaysians any enjoyment.
The PAS-friendly concert auditorium would essentially consist of two hermetically sealed spaces, one each for males and females. The traditional curtain separation techniques, the document stated, still allowed for the sexes to be within too uncomfortable a proximity. Acts consisting of both male and female performers would also be segregated.
Also revealed were plans to promote the Burka as the new Malaysian national dress. Colors permitted would be limited to anything drab, as unnecessary coloration is believed to generally lead to social ills. Included in the list of acceptabe colors is the drab green, the favored color of PAS.
Interestingly enough, one of the plans stated in the secret document was to also prohibit well-known foreign plays from being performed. One play, mentioned explicitly, was Cats, which should be prohibited as it promoted undesirable inter-species interaction, and would mislead Muslim youth into believing that animals have intelligence and feelings. The play also promoted illicit relationship between male and female pet animals, and would cause cat owners to allow their pets to be promiscous, the communiqué stated.
Another interesting footnote HENN found in the communiqué was the suggestion that everything enjoyable leads to moral decay, and therefore must necessarily be prohibited. A boring life in this world, the secret document suggested, would be rewarded with an even more boring eternity in the next world, something which every member of PAS Youth should strive for.
HENN did not bother to contact Baby PAS for comment, since their actions pretty much speak loudly for themselves. PAS gained much support from the Malaysian people in last March's general elections. Political analysts reckon that it's now payback time.
HENN will keep a close ear on any further boring developments pertaining to this communiqué, and other Baby PAS nay-saying actions in the future.
(© 2008 - Hell-on-Earth News Network)