Technorati tags: Farish A. Noor, Book Launch, Di Balik Malaysia: Dari Majapahit ke Putrajaya, Books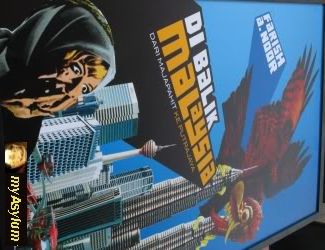 A food court is probably not the most obvious place to have a book launch. It's nowhere near as glamorous as a hotel, perhaps, and you have a lot less control over who's present, as you would a proper restaurant.
But Warung Makan Rasta, in Taman Tun Dr. Ismail (close to the Penchala Link interchange) is exactly where ZI Publications decided to hold the launch of Dr. Farish A. Noor's latest book, "Di Balik Malaysia: Dari Majapahit ke Putrajaya".
The launch was done yesterday, July 26, 2008 at Rasta, and was attended by some 50 or so people. Several people Walski expected to be there weren't, sad to say, but the launch went on without much of a hitch (apart from not starting quite on time).
So why launch the book at a food court, of all places? That gets explained later on in the post. Although somewhat familiar with Taman Tun, Walski and the Mrs. had a little bit of a merry-go-round trying to find the place. Fortunately, Walski made sure that we went there early, just in case we couldn't find the place immediately.
Warung Makan Rasta - the unconventional setting for the book launch
Unfortunately, quite typical of the Malaysian timezone, the event didn't start on time at 5pm like it was supposed to. But no matter. It gave us a chance to kick back and have a drink before the event, and a chance to say hi to Farish, who was already there when Walski arrived.
ZI Publications may not (yet) be a household name in the book publishing circles, but notwithstanding being a new player in the market, they have to-date published a few thought provoking titles, including "In Good Faith" by Datuk Zaid Ibrahim, currently Minister in the Prime Minister's Department, and also the de facto Law Minister.
And it was none other than Zaid Ibrahim who was on hand to launch Farish's book.
(more of the launch, and more pictures, in the full post)
Zaid Ibrahim, launching "Di Balik Malaysia"
Initially, the launch was supposed to have been done by Harith Iskandar, popular Malaysian comedian and celebrity. For some undisclosed reason, Harith couldn't make it, so it was Zaid Ibrahim who launched the book instead. And the choice of Zaid is not likely by chance, as the minister also wrote the foreword for the book.
Ezra Mohd Zaid, Director of ZI Publications, explained during the opening speech, why the unconventional choice for the launch. The rationale, Ezra said, was that reading should be something accessible to everyone. Picking Rasta for the launch adds a sense of surprise, in that you never know who would be there (other than the invitees), which also means being able to reach those whom would not otherwise have had the opportunity to know about the book. Makes sense, if you think about it.
And if there is one habit Malaysians need more of is the habit of reading. We simply don't read enough, in general. The Internet has, on the one hand, provided us with an infinite source of knowlege. To Walski, though, there's still something special about reading the old fashioned way - from a book. And reading a book, cover-to-cover, develops a certain amount of discipline in ourselves to read more fully and better absorb the contents contained within the text. But that's just Walski for ya.
The book itself is a translation from the English language "From Majapahit to Putrajaya - Searching for Another Malaysia" which was launched almost exactly a year ago at Silverfish Books, in Bangsar. Di Balik Malaysia, as with the original English, contains articles written by Farish Noor over the years, touching on how regional history has shaped the nation we know today as Malaysia. It's companion site, The Other Malaysia, is also where some of these articles were originally published, in addition to Malaysiakini and Kakiseni.com.
Walski will admit that he hasn't read From Majapahit to Putrajaya. However, since about 2 years now, Walski has been an avid follower of Farish Noor's writings, particularly those found on The Other Malaysia. During the launch, Farish shared with the audience some thoughts surrounding the book, and what he hopes to achieve.
Farish A. Noor speaking at the launch
Farish starts his short talk with a couple of observations. The first is, again, about reading habits. In libraries of colleges and universities (presumably in Malaysia), he's noticed that in the books assigned as reading assignments to students, the first 20 to 30 pages usually look visibly worn, sometimes with food stains. But flip the book further, and the pages appear progressively pristine towards the end, indicating that not many people read a book cover to cover. This perhaps is why Farish decided to publish a collection of articles, rather than a long treatise on a specific subject matter.
The second observation, relates to how certain historical figures have been obscured, and how for others, like Hang Tuah for instance, the image we have is only part of the entire persona. The image of Hang Tuah glorified today (by Malay ultra-politicians, no less) is usually the warrior side of this very complex persona. What has gotten lost is the fact that Hang Tuah went through a character metamorphosis, and towards the end, was more of a pacifist mystic. This, he says, is likened to watching Star Wars, but skipping The Empire Strikes Back, resulting in not fully understanding, nor appreciating the entire saga.
What Farish tries to do with the book, through the collection of articles, is to present the missing stories from our rich and complex historical past, much of which has been expeditiously and (sometimes) conveniently forgotten, for political and sometimes religious reasons. Walski, for one, is really looking forward to poring through the pages, in hopes of better understanding the lost history and narratives of this nation and it's immediate neighbors, that have progressively been obscured over the years.
And while reading the Bahasa Malaysia book may be a chore for some (Walski included), the fact that the book has been released in the national language is an important one, says Datuk Zaid Ibrahim. It's rare to even find a Bahasa Malaysia book of such intellectual challenge, available in the market. Publishing it in Bahasa Malaysia, Zaid said, makes it accessible to more people, exposing them to new ways of looking at our history, and perhaps to new ideas that come with the rediscovery.
After all, Zaid said, we as a nation, should not be afraid of "ideas". Hearing him say that about ideas may be surprising to some, being that Zaid Ibrahim belongs to UMNO. It does, however, reiterate Walski's belief that Zaid Ibrahim is truly an intellectual misfit compared to his peer ministers in the Malay nationalist party. And Walski means that as a compliment.
Also present at the launch was a crew from TV3, as well as members of various press bodies. Di Balik Malaysia: Dari Majapahit ke Putrajaya is available in major bookstores (or should be), and retails for RM 35. This is one book that Walski is truly looking forward to reading, and perhaps will do a review on, once that task is complete.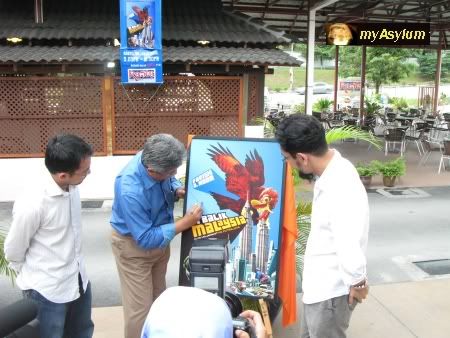 Ezra, Zaid & Farish (from L-R) signing the book cover poster
Bonus for the day: getting Farish to sign Walski's copy of the book, purchased at the launch. Farish's handwriting, however, well... suffice it to say that it rivals the illegibility of the most unreadable of medical doctor prescription scrips. But handwriting aside, the ideas conveyed by Dr. Farish A. Noor, more importantly, are something that every Malaysian should read.
In analyzing the past, Farish gives us a perspective that we seldom get, and in the process helps us, hopefully, to better understand how our history has shaped us as a nation, how we are the way we are today, and perhaps help us formulate a better path forward. Walski has come to realize this from the various articles he's read by the author over the past couple of years.
And Walski is confident that Di Balik Malaysia will not disappoint him.
~ ~ ~ o o o ~ ~ ~
Oh, and before Walski forgets, one other important thing was unveiled during the book launch, and has something to do with what Walski mentioned earlier in this post - reading.
It's a project called the Read while Waiting Project, or RWP. As Walski strongly feels that this is an important event, he will devote a post to it in the coming days. RWP is an initiative of RandomAlphabets.com, and is scheduled to occur at 3pm on August 23rd, 2008. Zain HD, one of the people behind Random Alphabets, spoke for a few minutes at the start of the launch to promote the event. A short video describing the project was also shown, which is available for viewing on YouTube.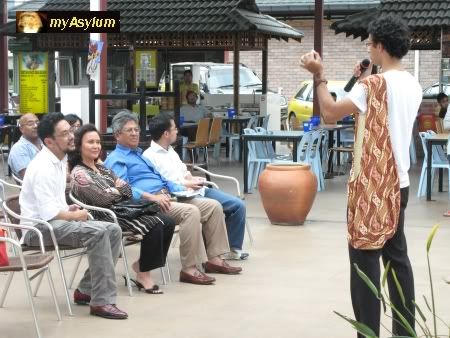 Zain HD pitching RWP at the book launch
(click on image to learn more)
You'll be hearing more about RWP in the next few days right here at myAsylum... so stay tuned!