Technorati tags: Events, All Blogs, Politics, Government, GE2008


Walski's Sticky Post explanatory note: This post is what's called a "sticky post". What that means is that it will remain on top of the stack of posts until a predefined date, which in this case is June 28th, 2008. Newer posts will appear after this one.
Update (June 26, 2008): The event has been postponed to the following Saturday, July 5th, 2008, due to a clash with another important event, the GMI Anti-ISA Rally at Stadium Melawati, Shah Alam.
Original Post:
It's been just about 100 days since March 8th, 2008. That's the 12th General Election, in case you forgot. And based on what's been reported in the mainstream media, it's been a hundred days of politicking, politicking, and then, for good measure, politicking. Or at least, that's what the mainstream media impression.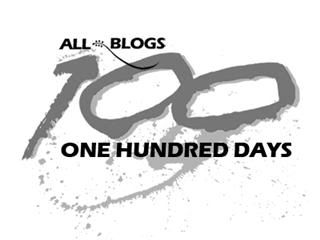 Click on the image for details (via Rocky's Bru)
All Blogs has put together a celebration - of sorts - of the end of the 100 days. The honeymoon, as they say, is over. It should have been over a lot sooner, but 100 days is usually the symbolic end. And it's time to take a snapshot of what exactly has been achieved in those one hundred days.
Apart from the apparent politicking-in-overdrive, that is.
(event details, and more in the full post)
The End of 100 Days Celebration will be attended by politicians, who will be given an opportunity to tell their side of the story. Which politicians exactly, Walski doesn't know. Yet. But when he does, he'll cascade the information.
What: Celebrating 100 Days with our elected "Yang Berkhidmat"
Where:

Blog House, 66 Lorong Setiabistari 2, Bukit Damansara


When: Saturday

June 28

July 5, 2008 - 8pm
Please note that there is a cover charge of RM 30 for the event, to take care of food, beverage and other event expenses. Registration/payment for the event can be made to Yew Wei Keat (All Blogs treasurer), via his Maybank account (a/c no. 514011899314). You can contact him at +60 12 2138257 for details.
Walski will update this post as and when more details are available. Stay tuned...