Technorati tags: 12th General Elections, Azmi Sharom, Election Issues, YouTube, Malaysiakini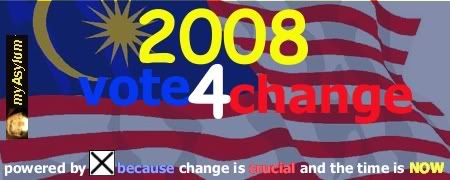 Walski came across this YouTube video, originally from Malaysiakini. It's an interview with Dr. Azmi Sharom, who, if you don't already know, is Associate Professor at the Faculty of Law, University Malaya. And he's the coolest law lecturer Walski's ever met. He also writes a regular column, Brave New World for The Star.
Incidentally, Azmi Sharom's writings have been compiled (unofficially) into a blog called, strangely enough, Brave New Word, which is maintained by blogger Elanor Tan (who also happens to be the blog-author of Arrested Development).
In any case, Azmi gives us some perspectives on what he feels are the issues surrounding the 12th General Election, in a very sober, non-partisan, and intelligent way. And Walski feels that it is well worth a watch...
(the Azmi Sharom video lowdown, and more, in the full post)
Key things that Azmi points out in this interview:
the nation voted in BN, under Pak Lah's leadership back in 2004, with hopes that a kinder, gentler, more open government would be the end-result
so far, 4-plus years later, the performance has been disappointing - promises not fully kept, some not even close to being fulfilled
we, as a nation, are a lot more sophisticated than the government gives us credit for
the Opposition not having formed a government doesn't mean that they are incapable of forming a government
any political party will mellow down its stand, somewhat, once in office - once reality hits home

and, finally (but most important):


no one dreamed that Tottenham Hotspur could've beaten Chelsea in the Carling Cup final, and Azmi is still jubillant...
(Azmi is a Spurs fan, in case the last bullet kinda zinged over the top of your head)
The point is - while the general opinion seems to be that BN will retain its 2/3 majority in parliament, you never know what will happen, come March 8th...