Technorati tags: Offbeat Travelogue, Penang, Food, Laksa, Lorong Selamat


Top Secret Communique from Global Laksa Command Center:
Agent Walski - we note with dismay your findings on the quality of product found at New World Plaza. Your mission, should you except it, will be to make your way to the location downloaded to your GPS device, and find the good stuff. This message will self destruct in 5, 4, 3,...

BURRRP!

Nevermind.
Saturday, February 9th - Walski's last day in Penang - and his last chance to redeem the lost glory of Laksa, whose reputation was tarnished by rogue Laksa-makers one day before. It so happens that the location downloaded to Walski's GPS-cum-mobile-cum-lots-o-other-gadgets was none other than the best place in Penang to find good Laksa. Lorong Selamat.
Okay, there are quite a number of places around Penang where you can get decent Laksa. A few places along Penang road, Balik Pulau, Ayer Itam... but for Walski's tastebuds, there is this one place smack in the middle of Georgetown, nestled between Jalan Macalister and Jalan Burma.
Rumor/Legend has it that this particular Laksa vendor onced served a tour of duty in a Singapore hotel for a food showcase some years back. Okay, every Malaysian (Penangites, in particular) knows that Singapore food pales in comparison to what you can get in Penang (some even say it sucks). But to be selected to be part of a showcase in a Singapore hotel, you really gotta serve good Laksa.
And so, coordinates downloaded to the GPS, car gas tank full, and tummy on empty, Agent Walski proceeds on his quest to find the best Laksa in Penang... and this time, unless Global Laksa Command was lying, the Laksa should be linger-fickin' good...
(the quest for the Laksa Holy Grail, and more, in the full post)
Traffic in Penang, on Day 3 of Chinese New Year, was considerably heavier than the past couple of days. And is usually the case, you see lots of out-of-town cars, primarily from KL. Yes, it sometimes seems like the entire peninsular descends upon Penang whenever there is an extended holiday. This time around, as Walski mentioned earlier, he and the Mrs decided to fly up instead of drive, and travelled around the island courtesy of his sis-in-law's vehicular contraption...
But if you know your way around Penang well enough, you can actually get from point A to point B quite painlessly, using the less travelled roads that snake thru the island, particularly around Georgetown. And so, without much pain inflicted, Agent Walski and his entourage make it to Lorong Selamat, where the Laksa Holy Grail lay in wait...
And wait we definitely had to - 40 minutes, to be exact - to be able to enjoy our bowls of Laksa. This particular stall is so well known, they actually had to take that long to be able to fulfill the backlog of orders. And this was way, way after lunchtime (it was around 1630 hrs, to be precise).
The surroundings on Lorong Selamat had definitely changed from the first time Walski was introduced to the place many years ago.
It used to be that the tables for the Laksa patrons were in a cemented open, shaded space immediately behind the stall. The Annexe shown in the picture above is a new addition - and definitely makes the place look cleaner and more appealing. Behind the Annexe is an old mansion, which together with the annexe now forms the kopitiam where patrons can sit in comfort while they wait for their laksa. Which in Walski's case, took around about the 40 minutes the Laksa guys said it would... okay, it was more like 35, but who's counting?
Some things, however, are worth the wait. And after the debacle of the day before, 40 minutes seemed to pass rather quickly. Ah.... finally... the Laksa Walski has been looking forward to.
Good Laksa, as a minimum, needs to have thick-ish soup. And the thickness comes from the fish bits. The Lorong Selamat Laksa, as a bonus, not only has ample fish bits, it actually comes with chunks of fish. Chunks, Walski tells ya... chunks!
A good Laksa meal (or any Penang food orgy) needs one important accompaniment - a nice drink or desert. For Penangites, there are two popular choices - either Ice Kacang or Cendol. Okay, there are a few others, but it's usually these two that get the thumbs up. For today's quest, it was Ice Kacang for Walski.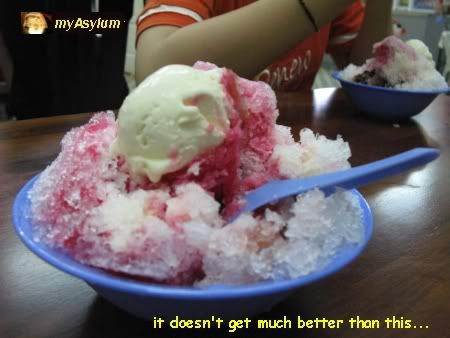 And so, after a disappointing day before, and after getting instructions from the grand poobahs at Global Laksa Command Center, Walski finally managed to fulfill this Laksa fix for this trip. And it was a great treat... The only problem Walski has whenever he visits the Pearl of the Orient is having to resist eating every other minute he's there... Apart from the nice beaches you can still find here, making Penang a beach paradise, the multitude of food styles, and more importantly the great tasting food, makes Penang also a culinary paradise... Which can be a problem for Walski. Let's just say that he puts on the pounds a tad too easily...
But as is with most things in life, even good meals have to come to an end... But let's just say, as far as this mission was concerned, it was definitely one worth going on... and not too expensive, either (even for the notoriously more expensive Chinese New Year period, food-wise, in Penang).
Laksa - RM 4.00
Ice Kacang - RM 2.80
That indescribable good feeling after a satisfyingly tasty meal... frickin' PRICELESS!
Another day, another great food adventure... and with this small mission successfully accomplished, Agent Walski now looks forward to his next trip up north to Malaysia's food paradise. Which he hopes will be sooner, rather than later...
Walski's post-Laksa fix fulfillment footnote: Walski's thanks to bloggers Ktemoc, Lucia, and Pah Nur for their "where-to-find-good-Laksa" suggestions... and yes, all those places mentioned do have their merits, and they do pretty decent Laksa (Walski's tried every single one of them at least once before)...