Technorati tags: Blogging, Malaysia, Bloggers United, Birthday Bash, Defamation Suit, Going Public


Today, Walski did something unexpected and out of the ordinary - Walski went public. The event? Rocky's hearing to strike out the suit by NST et al.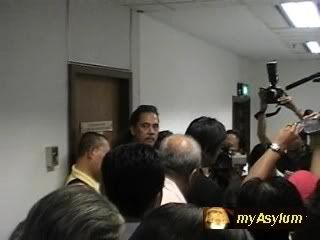 Luckily, Rocky stands out in a crowd...
The hearing was really a non-event. It was over well within 15 minutes (thereabouts). The verdict? Well, since the plaintiffs had recently applied to restate their claims (via Walk With Us), the hearing could not continue, since it was set to hear the application to strike out the earlier/original claim.
A new hearing date has been set for April 2nd (via Malaysiakini, subscription required). Walski didn't quite get much details, as the short press announcement (pictured above) was just beyond earshot. Walski will update this entry with links to other reports as he finds them.
More importantly... Bloggers United celebrated it's one month birthday, complete with cake, singing of the Happy Birthday song, and of course, one big hearty helping of solidarity.
Update @ Feb 23rd: More pictures of the pre-hearing mee rebus session, the hearing, and the cake cutting (courtesy of Mulah). Jeff Ooi also has a picture-laden update. As does blogger Shahabudeen Jalil.
(more thoughts on today, in the full post)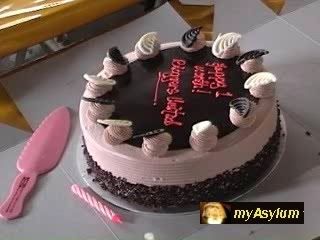 At least now, the mystery of who the real Walski is has been answered for some of the bloggers who attended today's hearing. For yours truly, finally managing to meet Jeff and Rocky in person, is probably another hightlight of today. And they were among the first to discover who Walski really is.
As for going un-anonymous... well, in due time, perhaps. But suffice it to say, although Walski blogs anonymously, he ain't hiding. And when the time comes to reveal who the person behind the pseudonym is, Walski will probably still continue blogging as Walski... some habits are impossible to break. Heh Heh...
In any case, it was really an empowering feeling today to be with a group of people that care enough for the future of our great nation: Jeff, Rocky, Marina M (it was great meeting you, finally), Nuraina, Sheih, BigDog... just to name a few.
And today was a true showing of solidarity. Walski feels truly honored to have had the opportunity to be part of today's birthday bash. After all, despite the labels that get thrown to us, despite the bad press we continue to get sometimes, one thing is certain. We do this thing called blogging for a reason. Well, many reasons, actually, as varied as the bloggers themselves in real life.
But the most important reason - it's because we care enough to do it.
At least, that's Walski's excuse...