Technorati tags: In Memoriam, Farrah Fawcett, Charlie's Angels, Jill Munroe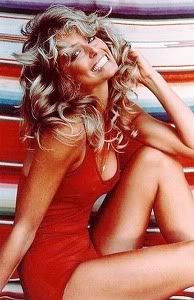 If you're around and about Walski's age group, you will probably remember this iconic image of Farrah Fawcett, then known as Farrah Fawcett-Majors.
While her most memorable, and immediately recognizable, role was as Jill Munroe on the popular TV series Charlie's Angels (between 1976 and 1980), Fawcett's career actually began much earlier. She had started her career in the late 60's, appearing in several commercials, and playing minor roles on a few TV series.
She had also appeared in The Six Million Dollar Man, along side then husband Lee Majors, as Major Kelly Wood, America's first female astronaut.
She will, however, be best remembered for her role in Charlie's Angels, as Jill Munroe, along side actresses Kate Jackson and Jaclyn Smith. Even though she was only on full time for one season (her spot replaced by Cheryl Ladd, playing Jill's younger sister Kris Munroe), with cameo appearances in later seasons.
Although she remained active in film and TV, it is her role in Charlie's Angels that will always be the immediate memory whenever her name is mentioned.  
(why this obit and not the other, and more, in the full post)
Walski recalls that just about every guy in his school class had a crush on Farrah Fawcett. She was a sex symbol, no doubt.
After her separation from Lee Majors, she had been romantically linked to actor Ryan O'Neil, with whom she had a son.
Walski chose to put up an obit on her first, instead of the other major passing of the day, primarily because Walski knew that her death would be immediately overlooked by many. And because Charlie's Angels was actually one of his favorite TV programs when he was a kid, he figured that it's important that she not get too terribly overshadowed.
Farrah Fawcett had been battling cancer ever since she had been diagnosed with anal cancer three years ago. At one point she was declared cancer free, as reported back in 2006 after treatment and surgery (via USA Today). But not long after, it returned.
She passed away on the morning of June 25th, 2009 (Los Angeles time – approximately 1:30am this morning Malaysian time).
May her soul rest in peace. The world's favorite angel finally gets her wings for real…