Technorati tags: Humor, Music, LastFM, LastFM Radio Player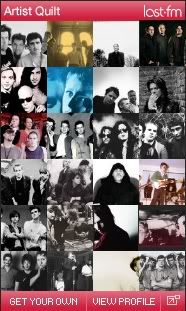 Walski figured it would be time to annoy you lot a tad bit (or some of you, at the very least). 
He's just installed the radio player from LastFM, a music community platform that Walski's been a member of for quite a while now. It's sort of like Facebook, but focused on music, and things related to music.
You'll find, however, that it's not the conventional pre-fab music you get off of Malaysian commercial radio... there won't be any of that "a-yer, a-yer" crap here. 
Having said that, Walski does realize that his musical preference may not be everybody's cup of tea. In fact, there'll probably be some of you who may find it downright annoying. For the time being, though, Walski will leave the player autostart to ON. 
Unless you tell him to turn the damn thing off, by default. 
(myAsylum rocks, and more, in the full post)
Walski looks at it this way - it's time you folks got a dose of what makes Walski tick. And what better way to do that - apart from sharing the literary stuff - than to let you folks have an earful of what Walski likes music-wise.
Of course, LastFM doesn't just cater to the strange musica that Walski likes. Nope, they're pretty much across the board. If the Flo Rida like stuff just happens to be what you like (and may God have mercy on your musical tastelessness), you'll find it at LastFM as well.
Plus, they got this thing called Scrobbling - which essentially is a music listener's feedback system, available either thru the LastFM player, or as a plug-in to popular media players (Windows Media Player, Real Player, etc.). The plug in will report what music you're listening to on your internet-connected media device, and reports back to LastFM, which provides, as an end-result, a sort of frequency chart of the most listened to music on the Internet. The plug-in will also report on music you listen to off a CD, and not just in MP3 format.
In any case, LastFM did NOT pay Walski to write any of thi s. He did it on his own accord. Why? Because Walski thinks that it's a neat service, and everyone should be privvy to good stuff, right?
So, enjoy the music while you're here... and if it does get a little overwhelming, feel free to turn it off... (the controls are located on the sidebar, between the poll and profile).