Technorati tags: Eid, Rememberance, Hari Raya, ISA, Hypocrisy, Politics


To all myAsylum readers and their families, Selamat Hari Raya Aidil Fitri. Happy Eid ul-Fitr. For all it's worth. Wherever you may be, whomever you may be.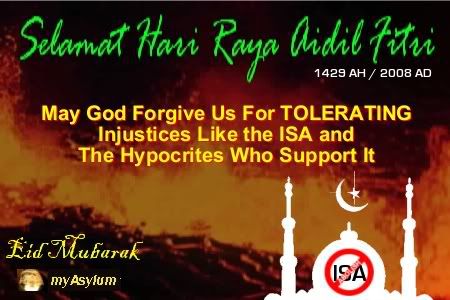 Not to burst your Raya bubble, but this time around, for Walski, Hari Raya will be a pensive and introspective one. He'll be reminded of those families who will spend yet another important festivity without a family member. For many families, the head of the household. And Walski doesn't mean only the Malay/Muslim families, but the families of all ISA detainees.
This raya will be, for Walski, a black raya - one that he really doesn't feel like celebrating as he normally does. Sure, it will still be quality time spent with family and loved ones. Don't worry - Walski doesn't intend to allow the dickheads in government - like the one voted Malaysia's Most Hated (more on that in another post) - to totally ruin Raya for him.
And for those so-called Muslims who think an injustice like the ISA is still needed in Malaysia, spare a thought and prayer for your own sorry salvation, won't ya? Especially during those moments that you take a rest from gorging yourselves silly over the next few days, a respite from a month of over-eating during break-fast time...
(We Will Not Forget, and more, in the full post)
It's customary during this festivity among the Malays to seek forgiveness from their family and friends... Maaf Zahir & Batin... which seems so damn insincere to Walski sometimes. And right on cue, Pak Lah, too, talks about forgiveness in his Hari Raya address (via The Star, emphasis by myAsylum).
Aidilfitri is

a month to forgive

and strengthen ties, said Prime Minister Datuk Seri Abdullah Ahmad Badawi.

As such, Malaysians should foster and strengthen national unity, he said.

He also said that if there was any issue or problem, everyone should stay calm and patient so that rational and mature action could be taken.

"Do not be

overcome by emotions

that will lead us to

overreact or do something that we may regret

.
How about asking forgiveness for allowing the ISA to be abused for no other reason but for UMNO's political survival? Overreact? Tell that to your own UMNO homies in government, dude.
"If the unity that we have built is destroyed, we may not be able to build it again," Abdullah said in his Hari Raya message aired on TV at 9pm yesterday.

He said the intention of being open was good but perhaps

Malaysians were not ready to accept such openness

.

He expressed confidence that all issues and problems on ethnicity and religion could be resolved rationally, "if we sit down together, hold dialogues and discuss, as well as understand and analyse the issues and problems", adding that the country belonged to all Malaysians and

no one had been given a higher status than another

.
Malaysians not ready to accept openness, or just the fucktards in your UMNO? You forget that UMNO does not represent all Malaysians. And all Malaysians are of the same status, huh? Pak Lah, we weren't born yesterday, and your delusional hypocrisy we don't buy anymore.
Nothing better adds to an already bleak Raya prospect than a wholesomely uninspiring load of hot air from the PM on its eve. And "uninspiring" is perhaps the kindest thing one could say about the Pak Lah administration.
But there is some consolation that Walski found online - those little nuggets of light illuminating an otherwise dark Raya. 
Among them is an open letter to the PM from Zaid Ibrahim regarding why the ISA should be repealed, which some of you would already have read. Uncle Zorro calls it slick, suave and smooth... like 18 year old Macalllan whiskey, he says. Go read it, if you get the opportunity. And if you have, read it again.
And there are other little things, too, that are more inspiring, compared to the whitewash hogwash that the PM tried to pass off as an inspired Hari Raya message.
I am in Kamunting today, staying the night so that I can be first in line to get into the prison. It pains the grandchildren, children and I to be without Pet on Hari Raya. We miss him and the joy that he brings to us each day.

Thanks for your support and prayers my family have received. We must continue this fight to free Pet and his friends under detention in Kamunting. "Selamat Hari Raya, Maaf, Zahir dan Batin."
(

Marina Lee

- via

Malaysia Today

)
It's not just about RPK, mind you. There are approximately 63 other families whose family member is part of the Hotel Kamunting guest list.
Background image taken from Mustaffa K Anuar's Blog
All because the Malaysian government doesn't have the decency to respect fundemental rights of a human being. All because the Malaysian government doesn't have sufficient evidence to prosecute, and instead resort to persecution, just because they think they have the right to.
And that, people is what you and Walski need to speak out against - injustice. Stop being the obedient feudalistic subject and succumb to the notion that what the government does is always right and for the good of all. In the case of the ISA, there is no moral ground for these goons to stand on - the ISA is wrong any which way you look at it.
On that note, have a safe and sensible Hari Raya...