Technorati tags: Humor, 12th General Elections, Bangsar, BN, Najib, Shahrizat


Updated: Some stuff Walski inadvertently left out in the original post... you'll find it in the full post (after the main-page break)
Ok, maybe not in the way Debbie did Dallas... but our Deputy PM Najib Abdul Razak was in the Telawi area of Bangsar to campaign for the incumbent Member of Parliament for Lembah Pantai, Shahrizat Abdul Jalil.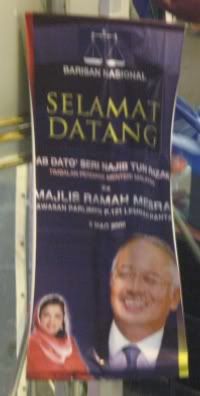 Walski really didn't plan on being there, and didn't even know that Najib was going to be there. The plan was to meet up with the Mrs at Bangsar Village for dinner. Reaching the Telawi area though, it struck Walski that this was Shahrizat's campaign HQ, and seeing that there were cops everywhere, something must've been up. It was only later that Walski realized the Deputy PM would be there.
Earlier on in the day, Yasmin Ahmad and Tony Fernandez (of Air Asia) were there, although as Walski understands it, Yasmin was there not to endorse Shahrizat (or anyone else), but for a book launch. Not sure about Tony F. though. Kudos to Yasmin for being non-partisan (otherwise Walski would've been a little disappointed).
In any case, as Marina M. had reported earlier, the area in front of Bangsar Village is Shahrizat Central - where she runs her campaign for Lembah Pantai from.
Last night, however, a large stage and even larger tent were set up between BV2 and the shop lots opposite, specifically for the event. Sort of a shock and awe set-up, which must've cost loads of moolah. But then again, BN has never been known to stinge on campaign costs.
Shahrizat Central - where Devi's Corner used to be
Even before the arrival of Shahrizat (around 9pm-ish), the weather had threatened the event - there already was a slight drizzle when Walski arrived there around 8pm. And true enough, it simply poured later on.
Looking at the crowd, however, it appeared as if the bulk of those attending were part of the BN campaign machinery, and Walski eyeball estimates put the crowd at 1,500 people, at best. There were more BN-ites than actual lay-people, whom the shock and awe event was meant to target. Definitely nowhere near the several thousands reported at rallies for PKR, DAP and PAS (check out Alliedmartster's excellent coverage series of the ceramahs).
If you subtracted the BN machinery, there would've been probably 200 - 300 lay folk...
In fact, Walski dares say that the evening was not a lot more than a BN self-congratulatory gloating session, and issuing a plea to vote them back into government.
(more Bangsar shock and awe, in the full post)
As with the typical BN/UMNO event, the evening wouldn't have been complete without entertainment, and of course, a show of force from the flag-waving, Cub Chai riding, Mat Rempit Gemilang. There was a squad of about 20 or so riders, complete with large BN flags, which later led Najib's entourage into the area.
While elsewhere the crowd who came for the opposition braved the inclement weather with no shelter other than their own umbrellas, the Bangsar event last night had a very large tent set up for the BN supporters. From Walski's assessment, however, most of whom were actually under the tent were either BN campaign workers, some (not many) residents from the area, and the drum squad hired to welcome Najib (multi-culural drum ensemble, no less).
The highlight of the evening's entertainment was none other than Datuk Siti Nurhaliza, who sang a couple of songs for the crowd, one of them being the Teresa Teng's all-time favourite (and way over-covered), Yue Liang Dai Biao Wo De Xin (The Moon Represents My Heart). But, of course, the main message Siti was there to convey - vote BN.
Siti with a larger-than life Najib...
Najib eventually arrived, in the heavy rain, at approximately 10:30pm, led by the Mat Rempit Cemerlang. And greeting him were an army of umbrella-wallas, sheltering him from the rain, which at the time evolved from a drizzle to a bona fied downpour.
Well, standard UMNO/BN practice - numb 'em with entertainment, then numb 'em even more with political speeches...
Shahrizat was the first to speak, as is standard protocol, addressing both the crowd and her party superior. Her message was nothing new, really - how much Bangsar has progressed while she's been the MP, how Bangsar is a microcosm of Malaysia, etc. But she did hint that all the development that Bangsar has achieved will be threatened if the opposition is voted in. Specifically, it would be one step closer to bringing PAS to Bangsar. She also remarked that being an MP in Lembah Pantai was no "child's play" - an obvious stab at her opponent, PKR's Nurul Izzah Anwar.
The occassional cheers that could be heard did not come from the lay-crowd where Walski stood - rather, it seemed only eminate from under the large tent, from the BN campaign workers. Even during the highlights of her speech, such as promising a particular housing project (in Pantai Dalam) be open for sale, or when Shahrizat proclaimed that she is part of the Lembah Pantai family, and would continue to serve regardless of being re-elected or not.
Najib and Shahrizat sharing center stage
But the underlying message was clear - the success that Bangsar is today is due to Barisan Nasional. To which, Shahrizat can claim credit, Walski supposes - she has served her constituency well. And this gave license for Shahrizat to gloat somewhat, stating that the majority votes for her had increased with each election. With that, she also promised Najib that she would, on March 8, retain her seat with a much, much larger majority.
Shahrizat also claimed, in her speech, that the community leaders she spoke to do not really want the Opposition to set foot in Bangsar, nor do they agree with what the Opposition stands for. What the constituents want, she said, was a check and balance. To this, Shahrizat said that the voters should not use "check and balance" to vote the opposition in. Under her, Lembah Pantai, and Bangsar in particular has been "protected" and allowed to thrive.
No mention, however, of the controversial alleged sale of University Malaya land (which is part of Lembah Pantai), as reported by blogger Big Dog.
Finally, at around 11pm, it was time for Najib to deliver his speech. And the message was no diferent than when Najib had spoken elsewhere - about the loose coalition vs the united BN, about why BN is the ONLY choice. But the most quotable quote: that BN has developed this country like no other government has developed this country.
Inspiring, of course, until you realize that the BN government is the ONLY government this country has ever known... Unless Walski fell into a time-warp during which some other government ruled, and didn't realize it...
Najib also stated that Bangsar is his favourite place to be, and that Bangsar rivalled the best places one could find anywhere else in the world, calling it the Palo Alto of Malaysia. What went through Walski's mind at that point was the world-class double parking that's rife in the area... But the reference to Palo Alto, California was a little perplexing - unless Najib was equating University of Malaya to Stanford University, and the multitude of F&B outlets to the economic giants found in Palo Alto...
The DPM also warned the audience not to throw away the future of Malaysia to the opposition - PAS, which he described as a theocratic Islamic party, DAP its polar opposite... And reminded the Lembah Pantai people not to vote for a young girl who would give way to her father once elected...
Walski wonders if March 8 is gonna be a washout, too...
Speaking of universities and young girls, at some point during his speech, Najib introduced his daughter, who is"still single"... but not available, as she's still doing her studies - at Georgetown University in the US. Walski found that a little ironic... on the one hand bringing in Palo Alto into the picture, and on the other hinting that our university system is so "great", even his children study overseas... Politics, eh? Don't know an ass from a hole in the ground, sometimes...
UPDATE: Be that as it may, Najib touched on one thing that seems to be the underlying driver in this General Elections - change. He said that change should be for the better, and not simply for the sake of change. BN, he says, will allow the nation to change for the better. Now, this got Walski thinking: if we change something to the very same thing we're changing from, exactly what does change?
Walski has to admit that he didn't stay to hear everything that Najib had to say. Don't think he missed anything groundbreaking or earth-shattering, though.
A bird's eye view of where BN frolicked in the rain last night
Well, Walski's accidental encounter with the BN electorial juggernaut last night was interesting, he must say... But Walski couldn't help but think of the pomp surrounding the event, and how much money must have been spent.
Walski read somewhere that money can buy influence, but money can't buy dignity... or for that matter, integrity and confidence. Last night, BN was no doubt preaching the choir - their own choir, Walski might add.
Whether or not it pays off on March 8th, is for the real people - the voters on the ground, who were largely absent - to decide.
Walski's this-is-not-a-Bangsar-bashing-post footnote: Bangsar happens to be one of Walski's favorite parts of KL, too. While Walski agrees that Bangsar is unique, he wouldn't go as far as equating it with Palo Alto, or that other great place he knows of: Austin, Texas.