Technorati tags: 12th General Elections, Election Results, Winds Of Change


Updates: Updated results (and other news) in the full post... latest update @ March 9, 3:54am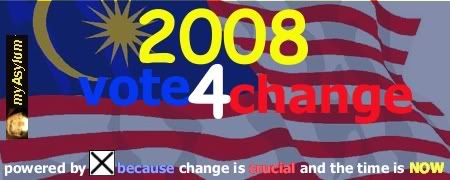 Blogging live from Blog House! The results have begun to trickle in. And it looks like the winds of change are indeed blowing. Some of the early confirmed BN major casualties:
Datuk Seri Samy Vellu, losing to PKR in Sungai Siput
Datuk Shahrizat Abdul Jalil, losing to PKR in Lembah Pantai
Datuk Zainuddin Maidin, losing to PKR in Sungai Petani
Datuk Seri Abdullah Ahmad Badawi, retains his seat, but with a reduced majority
Penang - BN loses state seats big time to DAP (24 out of 40 seats)
Kedah - BN loses Kedah to PKR/PAS (between the two, they've won 22 out of 36 state seats)
(Unofficial) Khairy is facing a very tough time against Chegubard. Latest count has Chegubard ahead by 16 votes, and a recount is under way.
Walski will be updating this post, as and when major results are confirmed. Updates will be flashed at the top of the post, but the actual updates will be in the full post. Stay tuned!
(updates in the full post)
Update #1 @ 11:21pm:

Jeff Ooi (DAP) has won the P50 Jelutong seat
Hindraf leader, currently under ISA detention, M Manoharan, contesting in the Kota Shah Alam state seat on the DAP ticket, has won by a resounding majority of 7,184
Khairy Jamaluddin wins Rembau, after a recount, by a 5,000-some majority. More news on this as it becomes available
For those of you trying to access Malaysiakini, try this URL: http://malaysiakini.aizuikmal.com/
Update #2 @ 11:47pm:
Not quite an election results: Unconfirmed reports have been obtained that the police are setting up road blocks around the Klang Valley. What Walski got to know that 2 roadblocks have been set up in the Subang Jaya area. DAP has issued a communique to its members to NOT go out on any victory rallies, which may be seen as a provocation
Tony Pua (DAP) has won the Petaling Jaya Utara (P 106) against incumbent Chew Mei Fun, with an overwhelming majority of 19,000 votes. Congratulations Tony!
Elizabeth Wong (PKR) has won the Bukit Lanjan (Selangor N37) state seat. Congratulations Eli! Waa... have to call you YB now, eh?
Just listening to Koh Tsu Koon's press conference: the opposition has won at least 30 out of the 40 state seats, and has pretty much conceded defeat in the state
Update #3 @ March 9, 12:02am:
The newly elected DAP government of Penang is currently having their first meeting at Red Rock Hotel (on Macalister Road - see picture below, courtesy of Oon Yeoh). Malaysiakini reports that the next Chief Minister will be Lim Guan Eng. DAP won 19 seats, PKR won 6 seats and PAS 2 seats - 27 seats out of the 40 state seats.
Based on the confirmed reports, currently the Opposition parties (DAP, PKR and PAS) have secured 34 parliamentary seats.
There are SMS's flying around about disturbances around - these are rumors
Mukhriz Mahathir has won in the Jerlun (P5) parliamentary seat, with a 2,200 majority - this unofficial result came via SMS from Marina M.
Breaking News (via Malaysiakini): There are another 14 ballot boxes that have not been counted. This is truly shocking, and now throws doubts on Nurul Izzah Anwar's victory. More news as and when available.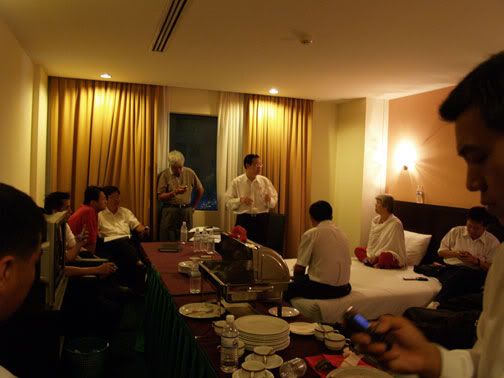 The new Penang government in their first conference tonight...
(pix courtesy of Oon Yeoh)
Update #4 @ 12:51am:
Walski has gotten an unconfirmed report that a curfew has been called (or may be called) in Penang. This is, Walski repeats, unconfirmed. More updates when available.
Nurul Izzah has been declared the winner, without any recount. To quote: "A technical issue has been blamed for the delay in the delivery of official results from 14 ballot boxes. However the result will remain the same - a win for Nurul Izzah - with no question of a further count."
According to The Star, Perak has also fallen to the opposition. More details on this when available
And according to Malaysiakini, Selangor has also fallen to the opposition. However, this has been tagged by Malaysiakini as still unconfirmed
Update #5 @ 1:21am:
Rafidah Aziz retains her seat in Kuala Kangsar, and so has Nazri Aziz

From Malaysiakini:

MCA president Ong Ka Ting today expressed shock over the election results which saw the ruling Barisan Nasional losing scores of seats to the opposition."The results are shocking because there are several states which BN has lost. However, MCA accepts the decision of the voters because it is their right," he was quoted as saying by Bernama.Ong also added that MCA will conduct a detailed study on the defeat.
Yang Berblog Jeff Ooi, is now officially Yang Berkhidmat. NTV7 announced that Jeff secured a majority of over 16,000 votes
Update #6 @ 1:34am:

BN has officially retained Terengganu, but with a very slim 2-seat majority. BN secured 17 seats, while the opposition got 15 seats
Who the heck is this Dr. Rizal that's annoying the heck out of Walski (and the rest of us here at Blog House)? Can any commenter enlighten us?
DAP has officially secured Bukit Bintang (P120), while in Penang, they have secured the Tanjung (P49) seat. Both have won with very large majorities
Update #7 @ 2:04am:
Fong Po kuan (DAP) has retained her Batu Gajah (P66) parliamentary seat with a huge, huge majority. So, maybe her pulling out was strategy after all?
Currently with the Barisan Rakyat at Blog House - they are keeping a close tab on whether or not the 2/3 majority in Parliament by BN can be denied or not. Malaysiakini had unofficially reported that BN could only secure a simple majority. However, this report was later taken down. Our own count puts DAP/PKR/PAS with 55 parliamentary seats. NTV7 has just annouced that BN has secured 101 parliamentary seats.
Apparently, RTM1 reported that the Government was not aware that they people were discontent... Duhhh...
SPR has just announced that BN has won 127 Parliamentary seats, meaning that BN has won the Parliamentary elections, by only a simple majority.
Update @ 3:54am:
Blogger outage earlier - so Walski apologizes for the lack of updates for the last half hour plus
Listening to the commentary on TV3 now - one observation is that the panelists are truly in denial, giving every excuse imaginable to undermine the obviously tremendous showing by the Opposition in the General Elections. They are stil harping on how DAP cannot work with PAS, etc. Wake up, you idiots... your denial is truly nauseating
TV3 has just confirmed Nurul Izzah Anwar's victory in the Lembah Pantai (P121) parliamentary seat.
Malaysiakini has announced that UMNO leaders are currently in an emergency conference, to discuss their horrendous showing in the General Elections, with a number of key personalities losing their constituencies
Uncle Sam says goodbye, according to Malaysiakini. To quote: "After defending the seat for nine terms since 1974, MIC's 71-year-old president S Samy Vellu made a quick exit upon learning his defeat. According to nstonline, on his way out, Samy Vellu could only muster a "goodbye" to reporters and supporters present at the convention hall. The MIC stalwart lost to Dr D Jeyakumar who has been contesting against him since 1999. In the previous polls four years ago, Samy Vellu defeated the latter with a majority of 10,349 votes. This time around, Jeyakumar, who stood on PKR ticket, garnered 16,874 votes to Samy Vellu's 14,408. Many of his supporters were seen crying when he left the hall."
This will likely be the last update to this post, unless something ground-shattering gets announced, like confirmation of the loss of Perak and Selangor - no official announcement so far. Similarly, announcement that BN has lost its 2/3 majority - the first time in its history. And this is exactly the outcome, Walski reckons most of us were looking forward to.