Technorati tags: Missing Persons, Sharlinie, Child Abduction, NURIN Alert


Walski admits that he's terribly late in posting this. And for that he apologizes...
Yes, another little girl has gone missing. Sharlinie Mohd Nashar, aged 5, has been missing since Wednesday January 9th, 2008. What makes this particular missing persons case interesting is that the little girl went missing in Taman Medan.
If the name Taman Medan sounds familiar, that's also where Nurin Jazlin Jazimin was believed to have been abducted. Walski doesn't have to remind you what happened, now, does he? Nurin has become the wake-up call to just how rampant violent crime has become in our nation.
If it's any consolation, Sharlinie's disappearance has really gotten the police off their asses and taken this case seriously, and in fact, appaears to have given them greater impetus to revisit Nurin's case. At least, that's how Walski sees it, anyway.
So much so that it has even gotten the IGP riled up. Yeah, maybe if all those resources were put to investigative use, rather than suppress the voices of the people. And in the meantime, all kinds of violent crimes are being committed.
And CCTVs... what about 'em CCTVs? Well, as evidenced in the less than ideal CCTV video showing what appeared to be Nurin's body being dumped, simply having CCTVs just ain't good enough. At the very least, they need to be relatively high-res CCTVs.
Be that as it may, in Sharlinie's case, just about every media body, bloggers, telco services... you name it - have gotten into the effort bandwagon to spread the word around. Earlier today, Walski received an SMS from his service provider, and Walski understands that those subscribing to the service would also have received MMS's.
Let's hope we're not too late. You cannot imagine how Nurin's parents must have felt when they found out the poor little girl's fate. And it's something no parent should have to go through.
(more missing photo-fit thoughts, in the full post)
Well, enough of Walski's thoughts on this. Let's get down to the important facts. Nuraina had earlier posted a textual description of Sharlinie (who also answers to the nickname "Nini").
Height: 3ft 2in
Description: SLIGHT BUILD, ROUND FACE, TANNED COMPLEXION LAST SEEN WEARING STRIPED LIGHT BLUE-WHITE SLEEVELESS TOP, LIGHT BLUE SHORT SKIRT AND PINK SLIPPERS, AROUND 11AM AT PLAYGROUND NEAR HER HOUSE IN TAMAN DATO HARUN, PJS AREA
Should you see, or think you have seen, any little girl resembling Sharlinie, you can do one of the following:
►

call the police, either via the national panic number,

999

, or at

(03) 7966-2222




►

call the Petaling Jaya police operations center at

(03) 7966-2184

or

7996-2177




►

call RakanCop at

(03) 2115-9999




►

SMS

32728

with information that you may have


►

call the parents, either Mohd Nashar, at

(016) 258-3450

, or Suraya, at

(016) 270-9096
The police have also released a photo-fit of the person suspected of abducting Sharlinie.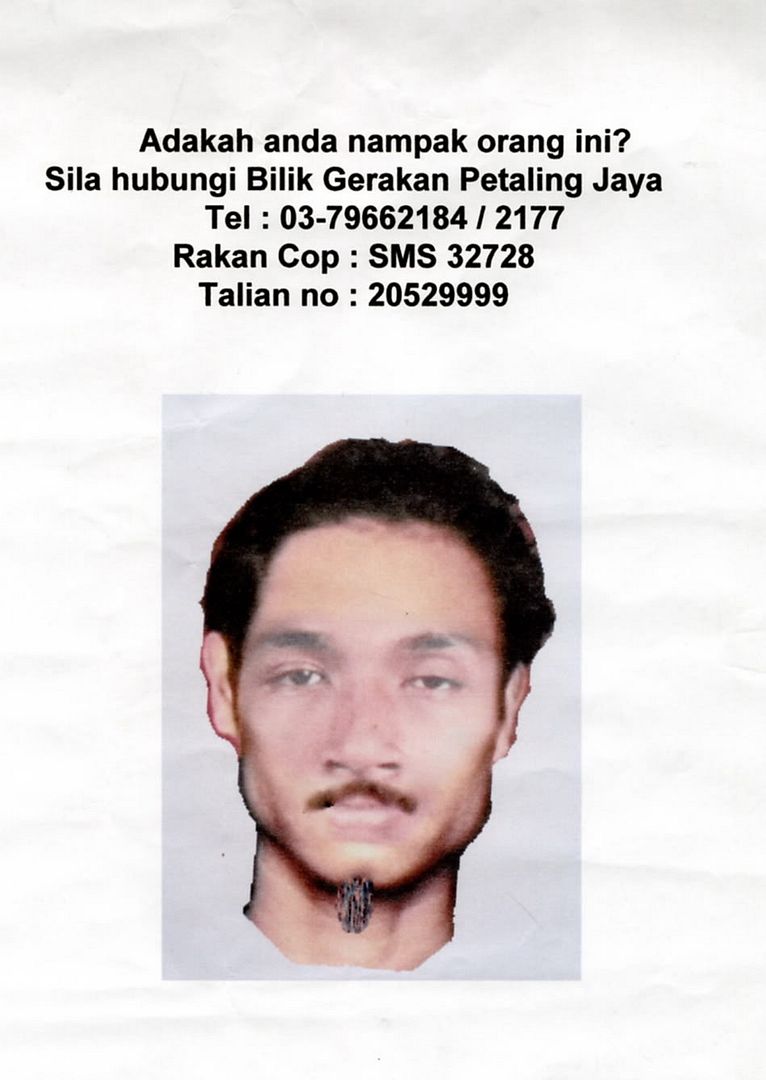 Photo-fit of suspect responsible for Nini's abduction
If you happen to see someone fitting the description of the photo-fit, DO NOT take any action on your own (for your safety), but immediately inform the authorities.
Walski again hopes and prays that Sharlinie is safe, and urges whomever responsible to not harm her. We, in the meantime, can only hope and pray. Oh, and please do not play pranks on the already suffering parents - and yes, Walski is telling you so.