Technorati tags: Charity, The Budimas Charitable Foundation, Year-End Charity Bazaar, Public Service Announcement


Just a friendly reminder to you folks: The Budimas Year-End Charity Bazaar is tomorrow and on Wednesday.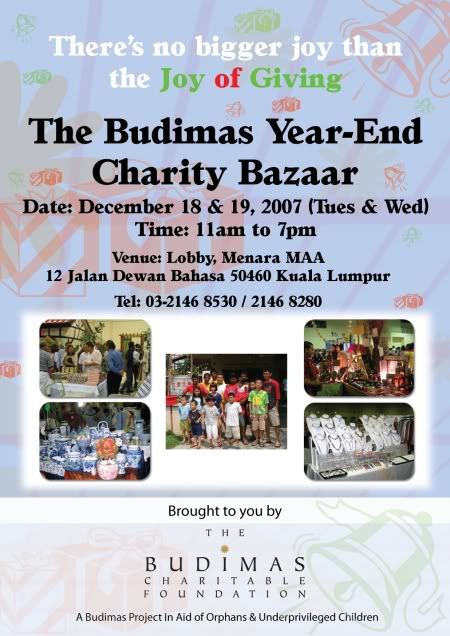 Perfect event for you to do something nice for others, and treat yourself a little...
Walski wishes thanks his bloggerhood friends who did their part in getting the word out, namely Marina M., Ol' Blue Eyes, Rita Ho, Ruby Ahmad, and The Boinq. Thanks also to Akmal of WiseUp and Zabs of Realiti Kehidupan, who both put the poster up (but without a link). Finally, thanks to reader FK, who didn't post it anywhere, but told his friends about it.
Word from Budimas is that there were LOADS of enquiries because of your posting (particularly Marina's). So a big, huge THANK YOU... sugar kisses and all... heh heh... More information can be found in the original posting of this charity event.
There's a lot of despair with what's currently going on, but it's always good karma to help the needy. So, take some time off if you can, and hope to see you folks there...