Technorati tags: Charity, The Budimas Charitable Foundation, Year-End Charity Bazaar, Public Service Announcement


With all the turmoil that's been reported of late, it sometimes helps to do something nice. Both for yourself, and for others in need. And that's where you come in...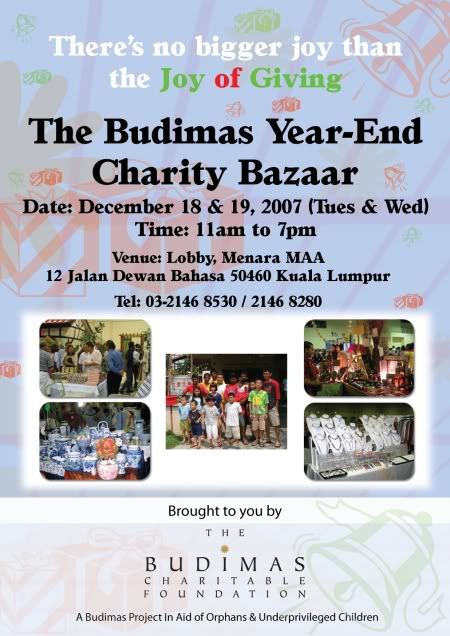 Get something nice and help the needy in the process
The charity bazaar is sponsored by The Budimas Charitable Foundation (the website is kinda dated - click here for more up-to-date information), in support of orphanage homes under their sponsorship. At the bazaar, you'll find a variety of stuff, ranging from clothes and accessories, to food, handicrafts and even temporary tattoos! A portion of all proceeds will be go to the foundation
So how can you help? Well, in two ways.
The first, is of course to attend the bazaar, which will be held on December 18 & 19 (next week, on Tuesday and Wednesday), from 11am to 7pm, at the lobby of Menara MAA (located at 12 Jalan Dewan Bahasa, 50460 Kuala Lumpur).
If you're not entirely sure how to get there, you can find a location map of Menara MAA here, via Streetdirectory.
(how else you can help, in the full post)
The second way you can help, is by promoting the event. Tell your friends and family, or if you own a blog or website, put it on there. To help you, Walski's created the button below (which will also be at the top of this blog in a day's time).
A simple button, for a good cause
To copy the image, right click and copy the shortcut (if you use a 3rd party storage service), or right click and select "Save target as...". Paste it on your site just as you would other images, then link it back to this post. Simple. Unfortunately, it's only available in the one size you see above. But, let Walski know if you need an alternate size, like for your sidebar.
In case you were wondering, Budimas currently provides sponsorship for the following orphanages:
Asrama Damai Rumah Anak-Anak Yatim
Kg. Damai, Kuang, Selangor

Bethesda Children's Mission Home
Batu 9 Cheras, Kajang, Selangor

Good Samaritan Home
Klang, Selangor

Precious Gift Home
Ipoh, Perak

Hannah Home
Ipoh, Perak

The Children's Protection Society (CPS)
Penang

Persekutuan Kebajikan Anak-anak Yatim Islam (Perempuan)
Penang

Pondok Penyayang Raudhah
Gombak, Selangor
Hope that if you happen to be in KL on either one of those two days, you'll drop by. Since Christmas (and Hari Raya Haji, and New Year) is just around the corner, it's the perfect opportunity to get something, and do something nice while you're at it.
Ahh... Walski feels so much better already...