Technorati tags: Humor, Books, Samy Vellu, Politicians, Coffee Table Book


RM 140 - what can it buy you these days? You know, with the rising cost of living and all that... Well, allow Walski to count the ways.
According to Walski's research, RM 140 today will get you one of the following:
■

1,029 km travel on the North-South Expressway (assuming you drive a Class 1 vehicle – twice the distance if you disguise your vehicle as a taxi)



■

368.421 kg of refined cane sugar (the deadly kind)



■

72.93 liters of unleaded gasoline (add another 16 sen for the full 73)



■

87 glasses of teh tarik (at Walski's estimated MRSP)



■

70 small bottles of 100Plus at the current 7-Eleven retail price



■

60 tins of sweetened condensed milk (give or take)



■

56 (to 87.5) kg of uncooked rice (at the current retail of between RM1.60 to RM2.50 per kg)



■

15 DVD 9's (at the recommended pirate retail price of RM 9 per piece)



■

9 mugs of beer tarik (Walski's optimistic happy hour price)



■

7 copies of Ben's Bitches "Mamak Conspiracy" un-autographed CD's (the autographed ones are priceless)



■

5 SDN t-shirts – 5.6 to be exact, but you'd have a hard time grabbing the additional 0.6 from AKAB's grimy hands
Or, if you really, really want to throw away a good RM140 on a pointless splurge...
(find out how, in the full post)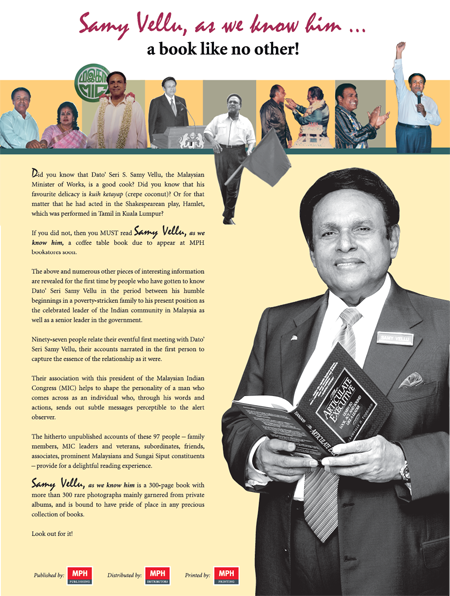 A book like no other... (check out what book he's holding) via the Dato Seri Samy Vellu blog
- click on image above for a larger (almost gigantic) view -
Yes folks, one (1) brand-spankin' new copy of the MPH-published, 300-page, totally mind-boggling book entitled "Samy Vellu - As We Know Him". This coffee-table book was launched recently, by Culture, Arts and Heritage Minister Datuk Seri Rais Yatim. Not quite an event like the Angkasawan launch, nor did the book leave Earth's orbit. Or if anyone tried to launch the book into space...
In this book "like no other", you'll discover totally amazing Samy facts, like
- Samy Vellu's a good cook, and what his favorite delicacy is
- he acted in Shakespeare's Hamlet, done in Tamil (dunno which role, though)
- and many, many more amazing Samy Vellu facts, and never before published pictures (no nudity, hopefully)
At 300 pages, this coffee table book will probably weigh as heavy as some smaller coffee tables. It would probably be a bit difficult to physically launch, without a super-duper catapault. It would also probably make a great door-stop (albeit overpriced). Walski is also not sure if the book has been designed to be coffee-stain resistant. Or, how well-preserved the book can be, and if it can withstand fossilization. Like the man.
With Halloween just around the corner, this book will make the perfect homicide weapon... imagine a sharp, strong whap to the head with this baby... and if the law catches up with you... blame it on Samy! Literally.
All that for the amazing price of only RM 140! What a bargain! So, what you waiting for? Own a piece of Samy today! Quick! Quick!