Technorati tags: Malaysia, Economy, Anti-Toll Coalition, Petition, Toll Hike, Cost of Living


Related posts:
- A day in the life of Darul Toll-ol
- Enemy at the (Toll) gates
Received some important information in the mail this afternoon, which Walski will now share with you.
Two members of the Democratic Action Party (DAP) have created an online petition to "Protest against unfair toll hike in 5 highways in Klang Valley". The DAP, as you may know, is part of the Anti-Toll Coalition.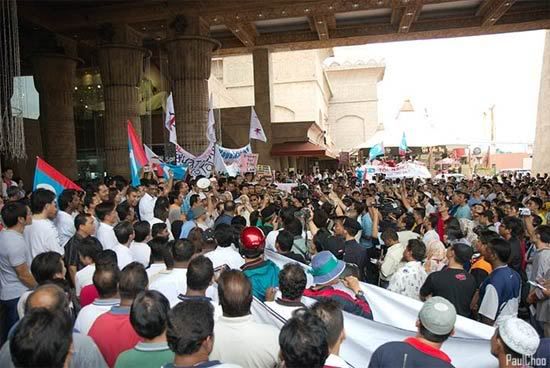 Anti-Toll Hike Protest on Sunday, January 7, 2007
(this and more photos, from Jeff Ooi's Screenshots)
There are two versions of the petition:
- Petition in English
- Petition in Bahasa Malaysia
As of the time of this posting, there are a total of 9,634 signees to the petition (8,290 and 1,344 from the English version and BM versions, respectively). The petition has been addressed to Works Minister, Datuk Seri S. Samy Vellu, and presumably will be handed over to the minister at some point.
If you are of the opinion that the toll hikes are unfair, do your bit and sign the petition. Also, alert your friends, family and colleagues that feel the same way. Walski's already put his signatory down about half an hour ago - meaning, the real person behind Walski.
Protesting is a loud way to express your resentment and anger over this (and well within your rights as citizen), but signing the petition is equally as important. In addition, the petition text also provides you with a list of people you should send your views to.
Walski's geek note: Both the petitions are hosted on PetitionOnline.com, a popular petition hosting service that's been used for a number of Malaysia-based petitions. And no, Walski's not being paid to make the statement...