Technorati tags: Malaysia, Environment, Flood, Flood Relief, Malaysian Red Cross Society, Mercy Malaysia


When Johor failed to secure the much touted Disney themepark some months back, little did the state realize that it would become one big naturally waterlogged mess. If Venice and Amsterdam have their world famous waterways, Johor, and the surrounding states, have instead found themselves to be a totally unwelcome Waterworld - a nightmarish natural theme park, if there were such a thing.
Segamat, during the worst period of the flood
(click here for more pictures from The Star)
Picture taken from mStar
(more picture links at Patah Balek)
Although the worst appears to be over, numerous victims are still being housed at the various relief centers around the Southern states. Basic utilities, like electricity and water, will take time to restore, leaving the victims in much difficulty in the coming weeks, or even months.
And your help is still needed, particularly in providing food and essential items to the flood victims. The following is a brief compilation of parties you can help out with this effort.

Mercy Malaysia
Mercy Malaysia, in cooperation with Mercy Relief Singapore, has identified clean water as one of the critical needs that flood victims lack. In many areas, the water supply has been cut off due to the processing facilities themselves being inundated by floodwaters (see related news item). You can contact Mercy Malaysia at +60 3 4256-9999, to enquire what kind of assistance they need.
Malaysian Red Crescent Society
Apart from donations in the form of food and essential household items (see below), the MRCS will also accept monetary donations. Details on how you can contribute can be obtained from their website. More from their site:
The Malaysian Red Crescent Society (MRCS) is appealing to general public including private sectors, corporate, organisations for generous contributions towards the Malaysian Red Crescent Relief Fund set up to provide financial and relief assistance to people affected by the recent flood.

MRCS is also appealing for items that will be distributed to the various relief centres as follows:

Perishable Food
Rice, Instant Noodle and Milk - Infant Formula and Adult

Can Food
Chicken/Mutton/Beef, Vegetables, Sardines, Sugar, Coffee/Tea (Dust), Biscuits, Salt, Cooking Oil, Mineral Water

Non Perishable Food
Sanitary Pads, Pampers, Toothpaste, Toothbrush, Towels, Soap, Detergent, Dettol, Slippers, Rubbish Bag

Medicines
Metronidazole, C.Penicillin, Ciprofloxacin, Anti-emetic - Metaclopramide, Antidiarrhoeal - Lomotil, Paracetomol tablets/suppository, Voltaran suppository and Antibiotic eye drops.

School Items
School Bags, Uniform, Books, Stationaries and Bicycles.

The MRCS operations room can be contacted at +60 3 4257-8726 (telephone) or +60 3 4257-3537 (fax), should you need further details on how you can contribute.
(assistace information, and more, in the full post)
Blogger Ruby Ahmad has posted on how you can help the flood victims. A list of agencies, and what they need, has been listed on her blog. Go have a look-see. Marina M's appeal had earlier been posted on this blog, but you can check out this link, in case you missed it the first time.

The New Straits Times Press (NSTP) has set up a fund to assist the flood victims. Those wishing to contribute can send their donations, in the form of checks, bank drafts or postal orders, made payable to NSTP Flood Victims Assistance Fund. You can send in your contributions to:
The New Straits Times Press (M) Bhd,
c/o Finance Department,
5th Floor, Balai Berita, 31, Jalan Riong,
59100 Bangsar, Kuala Lumpur
(Attention: Ms Aidah Nordin).
For more updates and links to bloggers whom have their own experiences to share, you can check out this post by blogger Bengbeng.
But is the danger to Johor, Melaka, and other regions effected, over? Or is there more heavy rain to come? the __earthinc had posted an interesting article last week, which is worth a look. He postulates that the heavier than usual rainfall experienced could be part of a larger trend, and that what we're seeing has to do with the phenomenon of Global Warming.
Global Warming is something most Malaysians don't seem to pay a lot of attention to, likely because of all the other stuff that's been going on in our daily lives. But haven't you noticed that when the air is not covered by haze, and the sky is visible, it has become almost unbearable to walk outside for any significant amount of time?
It is also known that climatic patterns have changed in recent years, and at least in Kuala Lumpur, it rains almost on a daily basis, no matter what time of year it is. We also know very well that what happens to the forests of Indonesia has a direct impact on climatic conditions all over the Southeast Asian region.
But what about our own air pollution? Perhaps it's time that more Malaysians really took more notice of the impact their activities have on the environment. The massive flooding in Johor and surrounding states could just be the wake-up call we need.
Or so Walski hopes.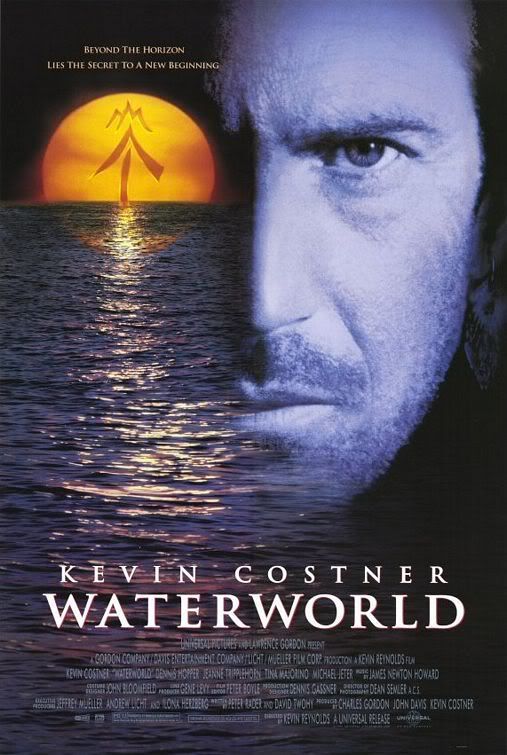 Walski's post title explanatory note: Waterworld is the title of the 1995 futuristic, sci-fi, action thriller, which starred Kevin Costner and Dennis Hopper (among others). The Earth, in the film, is almost entirely covered by water, due to the polar ice caps melting due to, you guessed it, Global Warming.
Although the "science" behind the scenario has been questioned by many, it is known that the polar ice caps are melting at a higher rate today than they were a few decades ago, thought to be primarily due to the depleting ozone layer in the Earth's atmosphere. The ozone layer is what prevents more radiation (from the Sun) from passing thru the upper atmosphere to the Earth's surface.
The United States, in recent years, particularly under the dubious Dubya administration, has pretty much dismissed the effects of Global Warming for very selfish economic reasons, and is one global power that has not ratified the Kyoto Protocol. As of 2005, the United States is the single largest emitter of Carbon Dioxide, one of the Greenhouse Gases thought to be responsible for the depletion of the ozone layer.
The Earth in Waterworld is, of course, an exaggerated scenario of what would happen if Global Warming were to continue unchecked. The floods in the southern Peninsular Malaysia region, however, should be heeded as a warning from Mother Nature that all is not well with the environment, and that much needs to be done to restore balance to the ecosystem, gone out of whack due to the unabated development witnessed by our country in the last half a century.