Technorati tags: Jack Nathan, Tribute, 360deg Head Rotation, Music, Malaysia


Related posts:
► Eulogy: "Hi Jimi, I'm Jack - Jack Nathan"
► In Memoriam: Jack Nathan (1965 - 2006)
The saddest thing about this is that Walski won't be around for it. Got this in the mail yesterday.
Greetings and salutations.

This is a gig I wish we never had to organize. 20 bands/artists - friends, bandmates of Jack will be getting together to remember and celebrate Jack's life.

- Rafil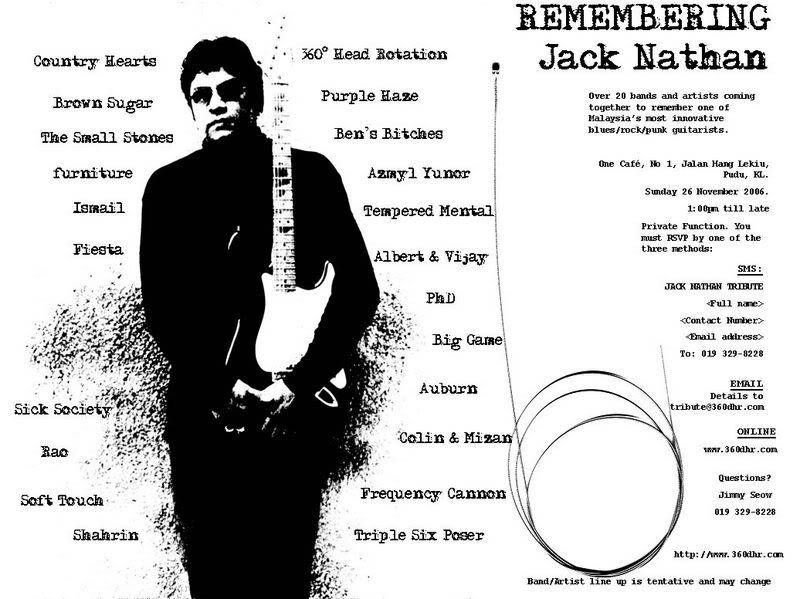 Remembering Jack Nathan - a private by-invitation-only gig
(click on the image above if you wish to attend)
The concert is scheduled for Sunday, November 26th (from 1pm till late), and is by-invitation only. The image above links to the 360° Head Rotation website, which provides details on how to RSVP or get on the guest list.
(getting invited, gig lineup, and more, in the full post)
Bands slated to perform (as of this posting) are as follows:
► Country Hearts
► The Small Stones
► Furniture
► Ismail
► Fiesta
► Ben's Bitches
► Purple Haze
► Azmyl Yunor
► Tempered Metal
► Albert & Vijay
► PhD
► Big Game
► Auburn, and of course,
► 360° Head Rotation
Gigs being gigs, the lineup above could change.
For harrassment-avoidance, this gig will be strictly by invitation only. Either go to 360DHR's website (instructions are there), or e-mail your Full Name, Contact Phone Number, and e-mail address to tribute@360dhr.com.
Just tell 'em Walski sent you... and that he's truly sorry he has to be away on that day. Far, far away (but more on that later).