Technorati tags: Music, Antares, 2nd Coming, Independent Music
Walski got an e-mail a few days ago from someone he's not heard from in a while. Many of you probably also know this particular someone, by the various names he's gone by over the years.
In any case, the someone who e-mailed Walski was Antares, the eclectic mind behind Magick River (among other things). And essentially, the e-mail was to alert Walski about the second coming.
Of what, you may ask? Well, not of any deified prophet, nor of the second coming of an anally-inspired exercise in faux justice. Nope. Quite simply, it is the second coming of this: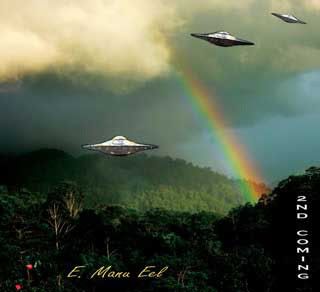 Soon to be reissued: 2nd Coming (on limited release CD)
2nd Coming was Antares' second solo album first released in 1986 on cassette. For you kiddos out there, cassette tape was a popular means of music distribution, particularly among independent musicians. CDs, which were already around, were still prohibitively expensive for many, and so cassettes were at the time the de facto independent music distribution medium.
But that was then, and this is now – and the time for Malaysians to be reintroduced to this fantastic piece of work. On CD this time around. 
(exploring 2nd Coming, and more, in the full post)
2nd Coming was release under the name E. Manu Eel, as you can tell from cover image above. Antares explains the reason this name was used instead of his own, in a blog posting announcing the reissue.
The posting also talks about the first-time release back in 1986, and what moved Antares to reissue 2nd Coming. Or, in Antares' own words, "to unleash it on a whole new generation".
Unfortunately, Walski has not had the opportunity to listen to the whole album in its entirety. But going by the one track that he has heard, 2nd Coming promises to be an interesting aural adventure into mystical sonic soundscapes.
The one track that Walski has listened to can be found here (via Reverbnation) – look for the track entitled Terminal Hierophantiasis. It starts off with a slow orientalish intro, which lulls you into believing you've been transported to a surreal hymnic tea garden, before fuller rhythmic orchestral-electonica waves wash you over for the rest of the almost 6-minute journey into the exoteric realm of the digital rainforest. Part Kitaro, part Negativland, but all Antares, the track left Walski wanting more of this surrealistic aural experience.
Frankly, bearing in mind that this was from 1986 originally, Terminal Hierophatiasis is impressively ahead of its time. And being that the entire album has been digitally remastered (by Daniel Schwörer - aka DJ Sanuk), this is one release that Walski can safely say he's really looking forward to, slated for sometime early September.
For those interested, Antares has provided instructions on what you need to do to pre-book your copy. Antares has indicated that he intends to press only a few hundred copies, so you may want to make sure you reserve yours.
Walski missed 2nd Coming the first time around – primarily because he was in a far-away land at the time. But rest assured that he has no intention of missing the second coming of 2nd Coming.