Technorati tags: World Cup 2010, Group of 16, Quarter Finals, Predictions, Football
Just in case there were any of you who were disappointed, appalled, or even pissed off with the post from yesterday about the vuvuzela, Walski would like to apologize. Just a tiny bit.
Of course, an small apology alone may not be enough for some of you, so he feels he's gotta make amends, as well.
Hence, this post.
The early hours of Wednesday morning saw the last of the eight matches in the Round Of 16. Walski has heard talk about how some of the match-ups at this stage read like Quarter-Final games. And those who thought so would be right, what with games like Germany vs. England, Spain vs. Portugal, and Argentina vs. Mexico. 
What Walski will do here is to give a quick summary of all 8 matches, from his perspective, plus what we can expect at the end of it all.
We'll get back to the topic of local politics and other shenanigans in due course, but the World Cup only happens once every 4 years, and yes, Walski likes football.
(results from the Group of 16, and more, in the full post)
This is pretty much how the games panned out, the visual indicator below courtesy of the FIFA site. Clicking on it will take you there, which links you to the individual match reports, just in case you're interested.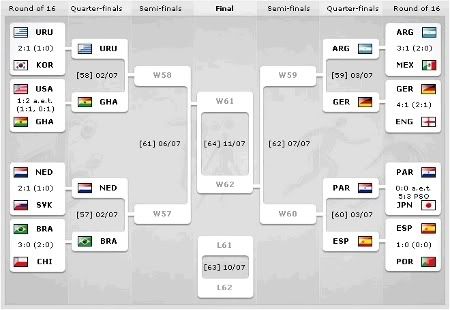 We start off with the Uruguay vs. Korea Republic match, which was played on Saturday, June 26. The Korean Republic was one of two Asian teams that made it to this stage, the other being Japan. Although the Koreans lost 1-2, they didn't go down easily, and never gave up. Uruguay makes it to the Quarter-Finals for the first time since 1970 when the tournament was held in Mexico, and where the South Americans clinched 4th place, losing to Germany in the 3rd placing match
USA vs. Ghana was the other match in the pairing, which saw the sole African representative overcome the Americans in extra-time, after the match finished at the end of 90 minutes squared off 1 – 1. Throughout the tournament, USA pulled off late goals to salvage their matches, which saw them top Group C. It would appear that the USA team literally ran out of steam, and succumbed to an early extra-time goal by Asamoah Gyan in the 3rd minute.
This sets up both winners to meet in the 2nd Quarter Finals match at 2:30am on July 3rd (Malaysian Time).
The second pairing saw two fairly exciting games, Netherlands vs. Slovakia, and Brazil vs. Chile, held on Monday, June 28. No big surprises – both Netherlands and Brazil winning their respective ties, setting up a Final-like match to be played on July 2nd.
This time's Round of 16 had its fair share of controversies, two of the most major ones happening in the Germany vs. England and Argentina vs. Mexico grouping.
Down by 2 – 1, England were denied a Frank Lampard equalizer late in the first half, which viewed through the instant replay, saw the ball a good yard over the goal line. Oddly enough, both the referee and linesman didn't deem it a goal. The case for using goal line technology was once again brought back to life – FIFA, which later apologized for bad refereeing in that and the Argentina-Mexico game, said that it would now seriously consider using technology in disputed refereeing decisions.
But perhaps it was moot anyway – England went on to lose by 4 – 1. The question remains, however, as to whether or not it would've been a different game had the equalizer been allowed. England fans would definitely say "Yes, it would have". The reality, though, is that England were outplayed by a more youthful and tactically more creative Germany. As much as Walski would've liked to see them advance, he does think that England's lackluster performance in the group stage indicates that they really didn't deserve to go any further.
The Argentina – Mexico game had its controversy as well when Carlos Tevez was not ruled offside, subsequently scoring the Argentines' first goal in the 26th minute. Replays later showed that Tevez was a good yard offside. Another case for instant replay to be used. Hopefully FIFA will finally allow its use soon. But two more goals put the controversy to rest, the game ending up Argentina 3 – 1 Mexico.
This, of course, sets up another Final-like match up in the quarter final stage, Argentina vs. Germany, which will be played on Sunday, July 3rd at 10pm (Malaysian Time).
The Round of 16 also saw what Walski called the Battle of Iberia – Spain vs. Portugal which, arguably would've been more apt as a semi-final matchup. Spain booked their place in the Quarter Finals by winning the match 1 – 0, the sole goal by striker David Villa, who now currently has 4 goals in the tournament, tied for the Golden Boot top spot with Argentina's Gonzalo Higuain and Slovakia's Robert Vittek. Walski reckons that Villa  will eventually grab the honors.
For Asian fans, the biggest disappointment in the Round of 16 must have been the Paraguay vs. Japan game, which saw the match go past both the 90-minutes and two extra time periods, culminating in a penalty shoot-out. Quite equally matched, the two teams pretty much cancelled each other out on the scoring front. After 120 minutes of play, it ended up with a 0 – 0 stalemate. Paraguay prevailed, and the South Americans advanced to the Quarter Finals, with the final score standing at 5 – 3, fueled by a miss by Japan's Yuichi Komano, whose shot hit the crossbar. Penalty shoot outs are a very cruel way to settle a football match, but such is the beautiful game sometimes.
From the result of this last grouping, it will be Spain vs. Paraguay in the Quarter Finals, in which Walski predicts Spain will prevail. The Spaniards have way too much quality for the Paraguayans, and it would take a total Iberian fuck up for Spain to not advance.
With the Round of 16 done and dusted, we have a mostly great Quarter Final lay-up to look forward to this weekend, beginning Friday night at 10pm (Malaysian Time) – oh, and who Walski thinks will advance:
July 2nd at 10pm (Malaysian Time)
Walski' pick: Brazil - although the Dutch haven't done too badly thus far, their performance has been "just enough" to get them through, and so Walski will have to go with the Samba Boys for this one. Under Dunga, Brazil has been somewhat uncharacteristic of past World Cup squads – yes, they still have that Brazilian flair, but they also have a credible defense this time. Granted that the Netherlands have representation from Liverpool (Ryan Babel and Dirk Kuyt), the mind overrules the heart on this match-up.

July 3rd at 2:30am (Malaysian Time)
Walski' pick: Uruguay – yes, it would be nice to see Ghana advance to the semi-finals and beyond, but Walski thinks that the Uruguayans have more quality in their squad. It will likely be a close match, but he reckons Diego Forlan might be a tad too much for the Ghanaians to handle. The African representation will probably exit the tournament on this one.
July 3rd at 10pm (Malaysian Time)
Walski' pick: Argentina – undoubtedly, this will be the most anticipated and thrilling of the Quarter Final match-ups. Germany has been very impressive throughout most of the tournament, but their game against Serbia in the group stage shows that they're not unbeatable. Youth prevailed in Germany's triumph over England, but the Argentines are a team on a mission – glory for their nation and their iconic coach, Diego Maradona, who has truly been an inspiration for the team. And that may just be too much for Germany. Either way, this will be one heck of a game to watch. If you got any other plans for Saturday night, ditch them – this one will likely be the best game of the entire tournament. On paper, at least. 

July 4th at 2:30am (Malaysian Time)
Walski' pick: Spain – the Spanish, it can safely be said, have had to travel a very difficult path to get this far – losing their opening game, and meeting some formidable opponents along the way to the Quarter Finals. It's been a World Cup of surprises and upsets, but Walski thinks this one match is Spain's. It would take a total breakdown in the Spanish side for it to be any other outcome. Then again, the ball is round, as they say. The Jabulani perfectly so. Regardless, Walski's quite confident that the Spaniards will progress and overcome the Paraguayans in this one. And maybe even a goal from Fernando Torres. 
~ ~ ~ o O O O o ~ ~ ~
Now, Walski hopes that none of you take the predictions above as a basis for placing a few wagers. There are other possible outcomes, and what you see above is based purely on his own assessment, an unscientific mixture of gut feel and minor analysis. For instance, fellow blogger Syed Akbar Ali, in his posting a few days ago, had predicted an Argentina-Holland final on July 11th. If Walski's picks are accurate, this won't be the case. But we'll soon see.
The ideal, pie-in-the-sky final? For Walski, Brazil vs. Spain. But let's see how the weekend pans out. Whatever the outcome, the rest of the tournament will still be very much watchable, looking at the various possibilities.
For Malaysian football fans, Wednesday and Thursday nights this week are like a gift from Sepp Blatter for the sleep-deprived. No exceptions. Not even for Walski and the Mrs, who were reacquainted with our bedroom last night, in which we hadn't slept pretty much since the tournament began two weeks or so ago. Similarly for tonight. Well, at least we managed to catch up on our sleep. A 2-night respite we'll definitely need, in preparation for this weekend…
And so, with eight teams left to battle for the 36cm high, 6.175 kg solid gold trophy, vuvuzelas aside, the remainder of the 2010 World Cup looks to be a thrilling ride for football fans the world over. Not to mention a few more late nights for the Mrs and Walski…