Technorati tags: Opinion Poll, Sedition, Insulting, Istana Negara, Migrant Worker Issues
We interrupt the World Cup 2010 posts for something completely bonkers. Well, okay, it's a new opinion poll, actually – but about something bonkers.
Recently, the news media, particularly The Star and Malaysiakini, highlighted the plight of migrant workers involved with the construction of the new Istana Negara, whose salary had allegedly been withheld.
Well, you'd think that highlighting these issues was part of the normal social responsibility of the press, but apparently some parties didn't think so. In particular, Perkasa (yeah, them again), and Senator Ezam Mohd Nor, former PKR Youth Chief who's since left the party.
Which, of course, got Walski wondering – what does the general non-politically affiliated populace think – is the mere probing of migrant worker wage-related woes seditious and an insult to the royal institution?
And when these kinds of thoughts wander through Walski's mind, you know that a poll can't be far behind. 
(the poll, results so far, and more, in the full post)
The poll was launched a couple of days ago, and announced via Twitter. Granted, the number of those polled is small, but the results are no unexpected. To Walski, at least.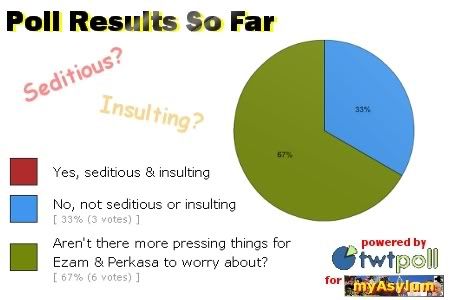 Click on the image above to take the poll, or alternatively at the blog sidebar
So far, no one thinks that either news organization was being seditious or insulting to the institution of royalty. It is true that Walski's tweets, and writing in general, tends to resonate more with the more liberal-minded, so the results thus far are probably lopsided.
Which is where you, the reader, comes in – please spread the word around so that more people of differing viewpoints vote on this.
Walski has decided to keep the poll open for a whole week-plus more, and will close at the stroke of midnight on Friday, July 16. So, plenty of time for you to pitch your opinion in, and spread the word to people you know to vote as well.
We'll talk more about the poll results once the polling has closed…