Technorati tags: Penang, Wesak Day, Parade, Travels
For many years now, Walski's been hearing about the Wesak Day Parade in Penang. And for as many years, almost, he's not managed to catch it, for one reason or another.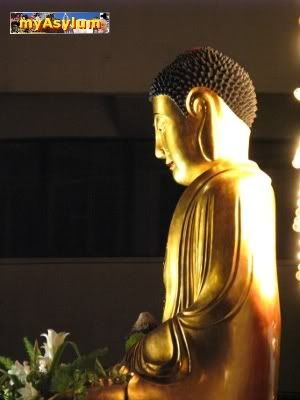 This time around, the Mrs & him took the opportunity to go, being that we were back on the island for the long weekend (the Mrs is from Penang, and she really missed her family).
Normally, Walski doesn't like travelling on long weekends, since that's a guaranteed way to get stuck in traffic. This time around he made an exception.
And that decision was a good one – it was a rather impressive parade, with some beautiful and interesting floats. Snaking through north Georgetown, passing a number of Buddhist temples, the almost 7km long parade began and ended on Burma Road, across from the Buddhist Association building.
It started around 6pm on Friday, May 28, and ended around 3+ hours later. Walski, the Mrs, and our 2 nieces, pretty much followed the parade on foot, which became for him a nice evening walking-tour of Penang. Yes it was tiring, but well worth it – there's no better way to see a place than on foot. Much better than by car, where you may miss the sights, sounds and smells you'd otherwise not have noticed.
And for Walski, the added advantage of following the parade was to be able to exercise his trusty Canon G7 camera – quite dated by today's standards, but still able to take great shots when it feels like it. All of the pictures you see in this post were taken with the G7. Still, an SLR would've been better, but Walski makes the best with what he has for now. The SLR's still on his wishlist, though.
While we're on the subject of photos, Walski should pre-warn you that the remainder of the post is very photo-heavy, what with our broadband not really being that broad most of the time, and all.
That said, the parade could be summed up in two words – interesting and colorful. 
(route map, and loads more pictures, in the full post)
As mentioned earlier, the parade route took the floats and participants on a 7km trek, beginning and ending on Jalan Burma, passing by the more prominent Buddhist temples on the northern part of the island, including Wat Chayamangkalaram on Lorong Burma, home of the Reclining Buddha.
Click image for a larger view, or here for the route on Google Maps
According to The Star, there were a total of 22 floats, although Walski probably only managed to catch about 12 of those, since we were following the parade from the rear. As he mentioned earlier, the parade had a lot color.
And some pretty interesting floats – including one that was a reenactment of Buddha's temptation while under the bodhi tree.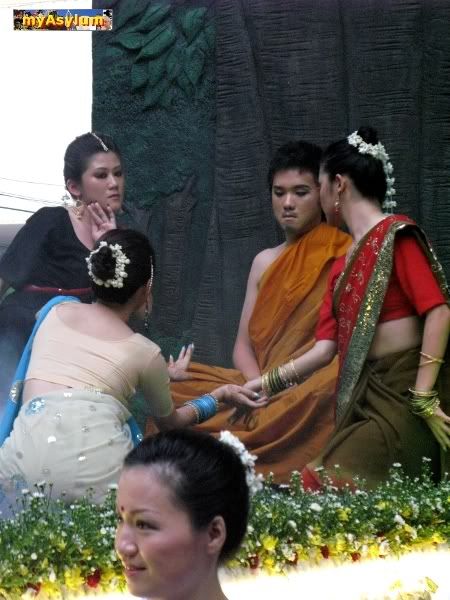 Walking just ahead of this reenactment, was little Siddharta, the boy prince who discovered the suffering of his people, outside the comfort and luxury of the palace he lived in. And boy, what an adorable kid they found to play the part!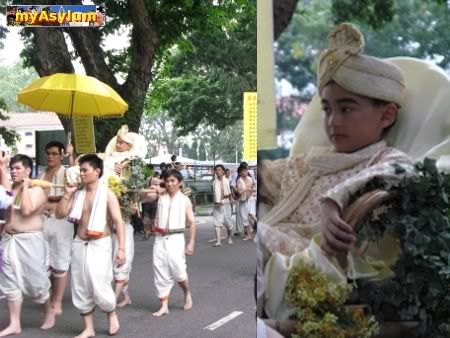 One of the more unexpected floats, as far as Walski is concerned, was this one, which essentially was a live performing troupe atop a float. He reckons they were singing Buddhist devotional songs, but since they were singing in Mandarin, Walski couldn't be absolutely certain.
To their credit, though, they performed pretty much throughout the 3-plus hours that the parade took, from start to finish (Walski caught them a few times along the way, and they were performing with gusto each time).
Water – a representation of purity in Buddhism – featured quite prominently in the parade. Throughout the almost 7km route, volunteers were handing out bottles of mineral water to those who participated. In a number of the floats, priests were splashing water, as a sign of blessing the devotees who patiently lined the streets.
In fact, a few of the floats had water features, including one that Walski thought was pretty cool visually.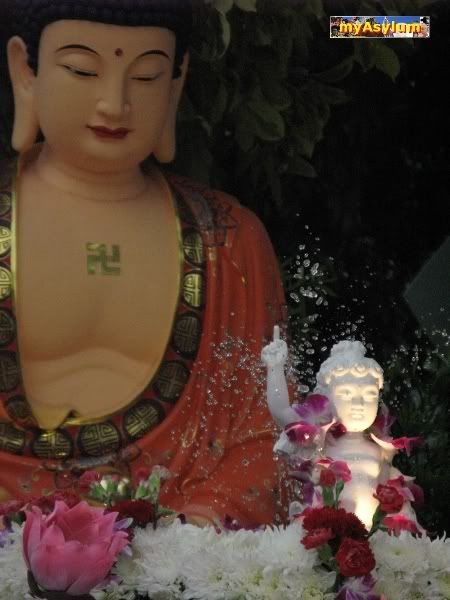 And no, it's not the middle finger that the little guy's sticking up into the air… Admittedly, at a glance, that's what Walski thought, too.
Speaking of little ones, the kiddies got a chance to participate as well…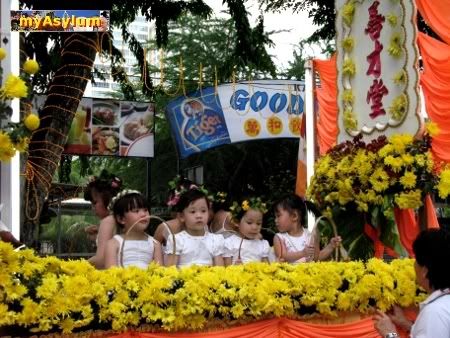 … including being part of the smallest "float" in the entire parade.
Walski's not very sure if this was counted as one of the twenty two floats participating, or not. Neither is he sure if these two were included in the count.
But all kidding aside… the parade wasn't just participated by Penangites and Buddhist associations from around Penang – it had a little bit of an international flavor to it as well.
Not quite sure where this group originated from, but Walski reckons that some of them were Tibetan Buddhists. The orange cap is kind of a giveaway. Or he thinks so, anyway.
All in all though, what makes a float parade memorable, if not for impressive floats. Like this one – with all the lights on.
And this one – perhaps one of the most impressive – the Dragon Float. The lighting effects on the float did make it look as though it were levitating down the parade route (which, of course, it wasn't).
On a lighter note, towards the end of the route, Walski would have thought that the parade would have ended just after the Penang Buddhist Association temple on Jalan Anson, at this place…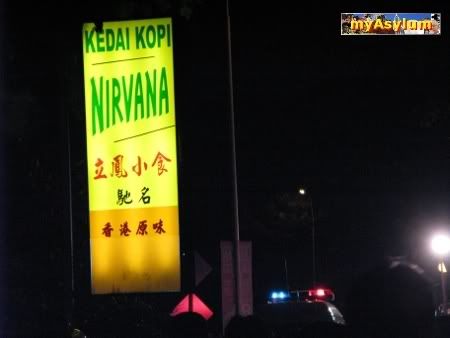 But that was not to be – the parade continued on for another kilometer or so, veering off Jalan Anson onto Jalan Macalister, before turning into Lorong Madras, then back onto Jalan Burma, where it ended approximately half a kilometer further down, back to the point where it started, three hours earlier.
Nirvana, as Walski understands it, is a state of being – the ultimate for a Buddhist – and not a coffeeshop, or any other physical place…
Walking with the 2010 Wesak Day Parade last Friday, along the streets of Penang, did bring back some memories from many years ago, when Walski was a member of his school's marching band (he was a bagpiper, believe it or not), which participated in the 1978 and 1979 Pesta Pulau Pinang.
But that, dear readers, is another story, for another time…