Technorati tags: Politics, Hulu Selangor, P94, Parliamentary By-Election
From the word "GO", Barisan Nasional's campaign in the Hulu Selangor P94 parliamentary by-election has been more about how much dirt they can throw at Pakatan Rakyat's candidate Zaid Ibrahim.
BN's campaign has not been about issues that affect the people of Hulu Selangor, per se, but personal attacks against Zaid, and the fear/hate-mongering against Pakatan Rakyat. And as is the usual standard, the promise of development money, should BN win.
There's no doubt, however, that this by-election is extremely important to both BN and Pakatan Rakyat, evidenced by the involvement by top guns from both sides of the political equation.
There's no doubt in Walski's mind that this by-election is a referendum, of sorts, and the outcome of today's polling will be an indication of what GE 13 (13th General Election) will be like.
And by all reckoning, the outcome is predicted to be close. 
(slinging mud pies, and more, in the full post)
It's interesting to note that the campaigning online, particularly from those blogs/websites friendly to UMNO/BN have focused on attacking Zaid Ibrahim, and other Pakatan luminaries, personally. For example, the following blogs: ParpuKari, Gerakan Anti-PKR, and The Unspinners.
Contrast this against the usually Pakatan-friendly blogs, such as Perisik Rakyat®. It has been said, however, that what these BN-friendly fellers are doing is essentially giving Pakatan a taste of their own medicine, referring to the PR-friendlies own share of mudslinging during the last General Elections.
Well, in Walski's book, two wrongs don't make a right (although 3 rights do make a left), and by using this kind of excuse, it doesn't do much in the credibility department.
Polling started early today with all stations starting their ballot-casting bright and early at 8am. With about slightly less than 3 hours to go, The Malaysian Insider reports (via Twitter) that 56.82% (or 36.650 voters) have cast their ballots. So far Walski has not seen any exit polls, but a straw poll conducted by TMI indicates that Zaid Ibrahim is the favored candidate.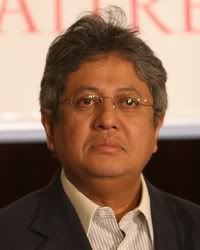 We'll just have to wait a few more hours to find out for sure, when the polls close at 5pm, and counting begins an hour later at 6pm.
Walski will not make any prediction – for him it's too close to call. But the results will tell us whether the Malaysian hinterland voters are mature enough to see through the fluff, or whether holier-than-thou rhetoric and pork-barrel promises still hold sway (via ARTiculations).
For many, the Hulu Selangor by-elections is a lot more than just P. Kamalanathan vs. Zaid Ibrahim. It has been a political mud pie fest for sure, but more than that, seen to be a proxy fight between Najib and Anwar.
And in a few hours time, we'll know for sure who gets their just desserts.