Technorati tags: Opinion Poll, Poll Position, ISA, Internal Security Act, Malaysia
Usually, Walski publishes these results first before putting up another poll. This time around, however, we've had to change the plan a little. In any case, on December 25, a few newspapers published reports about the coming changes to the Internal Security Act, more ominously known as the ISA.
Berita Harian took it another notch and said that "Everybody Agrees ISA to remain" – hence, the poll to determine whether that was an accurate interpretation or not. Well, here are the results.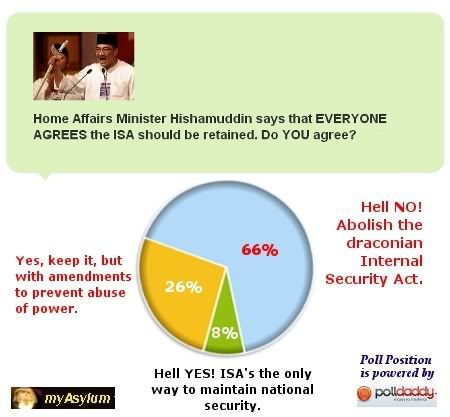 And it appears that Everybody in this case only accounted for about 8%.
(a brief analysis, and more, in the full post)
Ok, there are two ways that we can look at the results. The first is that we look at how many would like the ISA to remain. We can roughly surmise that this figure amounts to 34% (adding 26% and 8%). That still leaves 66% – the majority – who think that the ISA should be repealed altogether.
The second way to look at it is this: only 8% want the ISA to remain, stating that it's the only way to maintain national security. If you ask Walski, though, he'd be more concerned about the fact that jet engines could have been stolen from an airbase – now that is a more serious security concern.
Either way, the majority of those who participated do not want the ISA, in the form it is today. So, how the heck could that account for "Everybody"? Simply put, it doesn't, and Berita Harian was merely exercising its editorial license, based on their own organization agenda. Because if you had read the English press, what the "experts" felt was that while a law like the ISA was needed, it's form needed change.
That, however, is probably arguable.
In any case, rather than speculating what the proposed amendments are gonna look like, Walski chooses to wait until those amendments are tabled in Parliament. While ideally he would like to see the law (and a few other ones, too) repealed, Walski realizes that the stark reality is that a snowball has a better chance of surviving in Hell, than for the ISA to be repealed, as long as the current government is in power.
The most that we can realistically expect, therefore, are amendments that will hopefully remove any possibility of abuse.
Last but not least, Walski would like to thank Marina M. who was kind enough to host this poll on her blog, in addition to it being here, and on the Polldaddy site. Without her support the participation wouldn't have been as much – a total of 392 votes were cast during the week period the poll was up.