Technorati tags: Humor, Offbeat Travelogue, Hull, Dull, Hell

As chance would have it, just when Walski finally found some time to post something 3 weeks ago, the call to travel came up once more.
The trip was a 2-week tour of duty to the UK… second time this year. This time around, it was to Hull, on an intra-company work assignment. The corporation Walski works for acquired this UK engineering company, and he's been sent to carry out some work there.
The only problem – it was a surprise trip. Was only informed about this assignment 3 days before he was supposed to depart. Yeah, such is the fun and adventure that Walski encounters in his hectic life.
This post got started at the Dubai Airport Terminal 3, while he waited for his connecting flight – about a 9-hour layover, all told. As with his previous trip to the UK earlier this year, Walski decided to fly Emirates, since the airline flies into most major airports in the UK, apart from those around London. The destination airport this time being Manchester International.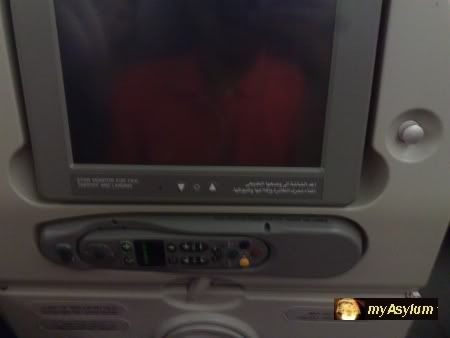 The nice thing about Emirates is that you can almost be guaranteed to board an aircraft with an in-seat entertainment console in all classes. The not so nice thing is that, the damned thing may not work as expected all the time.  
(Hull and the no-show green man, in the full post)
And this is true of any airline, not just Emirates. Walski has this knack about being assigned a seat with a less-than-optimally working entertainment console on these long-haul flights. One time, the audio just didn't work. Many other times, only one channel decides to work (and it wasn't the headset that was faulty either).
This time, what happened was that the audio for Walski's console was mapped to the seat adjacent to his, and vice versa. So he had to plug into his neighbor's jack, and his neighbor had to plug into Walski's. You can imagine the criss-crossing of audio cables across the two seats.
Fortunately, the guy in the adjacent seat was a nice Arab gentleman and he took all of this in stride. We even had a good chuckle over the sound jack mix-up.
Then on the second leg of the journey, the headset had the right channel busted – but at least this time around, Walski managed to get a replacement. No problems.
In any case, this part of the post was written in his hotel room in Hull, UK. For those of you who don't exactly know where Hull is, Walski's provided a map illustration below (courtesy of Google Maps).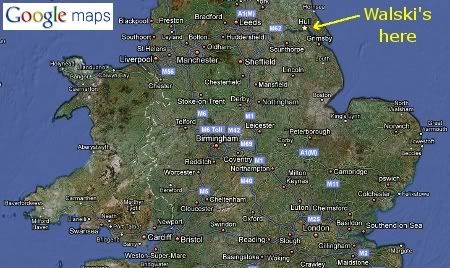 Those who follow the Barclay's Premier League undoubtedly have heard about Hull, but probably don't know where it's located in the UK. Well, it's about 150 kilometers away from Manchester Airport, via the M60 and M62, and finally the A62.
About the title… Hull is definitely not the most interesting nor exciting place in the UK. In fact, Walski's been told that it's consistently been rated as one of the Top 10 worst places to live in the UK. It's not the crime, nor the lack of shopping – in fact, shopping is about the most exciting thing you could do.
Despite being a university town, Walski could find fuck all to do. The weather – which was rainy and tepid (hovering around 5 to 8 deg C) – didn't help him get into the mood either. One would have thought that with all that time on his hands, Walski would've been able to get some blogging done, right?
Wrong…
When it wasn't work, it was catching up on work from KL, and when it wasn't that, it was getting some sleep. As Walski's Twitter friends will attest to, he didn't even have time to Tweet very much. But there is one thing that Walski thought was rather amusing and kinda cool (apart from the weather).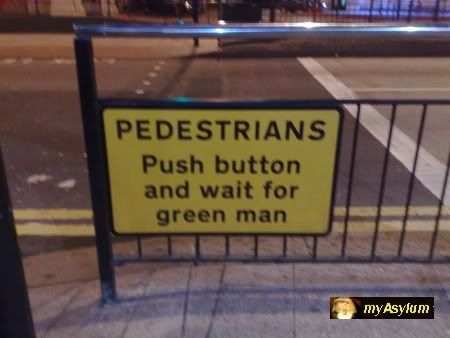 Well, he did press the button and he did wait… but no green extraterrestrial man appeared. Not even green Earthmen. False advertising? Yes, folks – that's just how boring Hull is. Even the green man didn't bother showing up…
Kidding aside, Walski's quite sure that this sign isn't peculiar to Hull, and can probably be found all over the UK. But it was new to Walski, who thought it was kind of novel.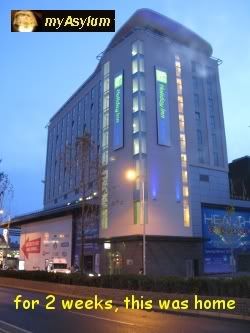 Fortunately, work kept Walski occupied most of the time, so the 2-week stay in dull Hull didn't seem all too bad a drag. Oh, and the wonderful English-version Kit Kat bars helped, too.
If you're wondering why there isn't much more Walski has to mention about Hull, it's probably because there isn't really that much more to mention.
As one of the guys at the office there said, Hull's dull because it is literally at the end of the motorway. After Hull, it's pretty much some country side, then the English Channel. So anyone coming to Hull does so because he or she IS coming to Hull. It's not one of those places you pass by and say, "Hey – cool place. Let's stop here".
In all likelihood, though, Walski will probably return to the end-of-the-road city called Hull. At some point in the near future, he's quite certain.
So, sorry once again for the long absence… Walski knows that a lot has been going on in Malaysia, and he' has managed to keep up with most of the goings on. The good, bad, ugly and even stupid.
Think of this post as the start of ending this decade with a bang… on the blogging front, at the very least…