Technorati tags: Wheel Love, Store Opening, Skateboards, Inline Skates, All Skate No Hate

Fortunately, the past couple of weeks hasn't entirely been doom and gloom. Naah… that would just cave in to the morons who want to ruin this great nation of ours.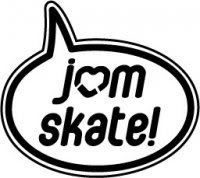 Being an eclectic person means that Walski has several diverse circle of friends. And one of those circles – skater kids. In particular, a couple of young Malaysian skaters who've taken it a notch further, and have opened up their own skate shop in Subang Jaya.
The shop's called Wheel Love, and it's located at 28 Jalan SS15/4 in Subang Jaya (entrance is via the alleyway).
The store had it's soft-opening on Saturday, October 24th, which Walski and the Mrs attended, lending our moral support to what we felt was a great thing for our friend Wei Yeng, one of the owners. The co-owner of this venture, incidentally is Su Keats, whom we met through Yeng.
Walski's been told that apparently there is this rivalry between various types of wheel-based sports, even between in-line and board skaters. Dunno… Walski's no skater, so he'll take that at face value. So in that sense, Wheel Love, as a concept, means that as long as you're on wheels, you'll be loved – in-lines, boards, or even bikes. Or something along those lines.
Hence the phrase "All Skate, No Hate" that the Wheel Love boys love to use…
Rumor has it that this thingy lights up when it's dark...
But back to the shop opening… Walski, and his better half, got there at about noon, not long after the "auspicious" opening time of 11am that morning. Yeng, SuKeats and the crew were busy with final touches on the store interior.
Walski can say this much – he's impressed and sees great things afoot with this store! 
(more about the skate shop, and more soft-opening pictures, in the full post)
Wheel Love, incidentally, has been in business online for quite a while now. But it's only now that Yeng & SuKeats have managed to take their business to the realm of the physical. Check out the Wheel Love online store and blog if you get a chance. And if you're on Facebook, you can also be part of the Wheel Love Skateshop fan club.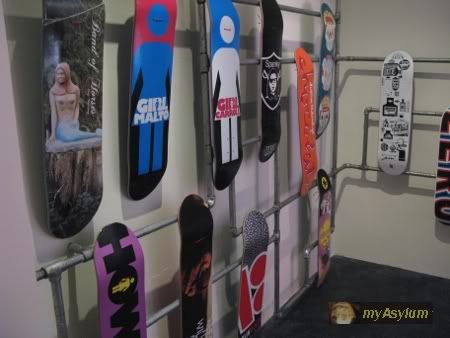 A wide range of nifty and cool board designs await you...
In addition to skateboards, inlines, and their respective accessories, Wheel Love also carries a nice collection of fashion accessories and apparel – neat tees and shoes, including their own range of Wheel Love tee-shirt products.
A wide range of über-cool tees...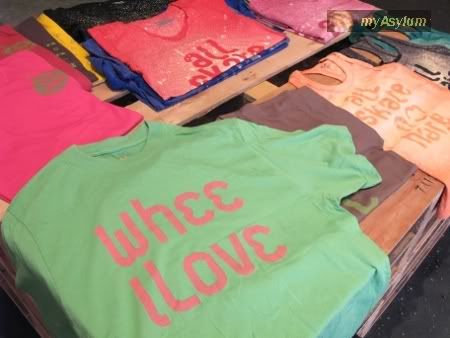 ... plus Wheel Love's very own tee-shirt range
In addition to skate-related merchandise and cool apparel, Wheel Love is also a sales outlet for the Kendama gizmo, a deceivingly simple-looking ball and cup toy, which to play requires a lot more skill than meets the eye.
Consisting of a ball and hammer-like cup, with a strand of string attaching the two, you play the thingy by trying to land the ball onto the cup's surface. Sounds simple enough, but it's pretty darned difficult to do.
Essentially, the Wheel Love boys offer the gizmo in collaboration with Kendama MY, Malaysia's very own Kendama community.
Admittedly, Walski didn't try it for himself, but having had a look at SuKeats semi-struggling with it, Walski thought… hmmm, maybe next time. But intriguing the thing looks, for sure.
What really impressed Walski about Wheel Love is the cozy environment the guys have created, making it not just a great place to get your skate gear, but a neat spot to escape the hustle 'n bustle of busy Section 15 to chill for a bit.
A cosy cool interior to chill for a bit...
The soft-opening was also reported at Wheel Love's own blog posting, and has been covered by Juice (Online). Hopefully this posting will keep up the promo momentum for the guys – they really do deserve it, what with the effort they've put in to carve their own little niche in the ever-shrinking space of cool we have here in Malaysia.
Walski's not sure when the official opening of Wheel Love will be, but rest assured that if he's around town, he'll be there for sure. And that you'll hear about it, too. In the meantime, if you're ever in the Section 15 area of Subang Jaya, and got some time to kill, pay Wheel Love a visit, won't ya?
And don't forget to tell 'em Walski said Hi…
Walski's promo disclaimer footnote: Just in case you're wondering, Walski's not getting an iota of anything by doing this post. It's so that he gets to spread the All Skate, No Hate love... nothing more, but certainly nothing less than that!