Technorati tags: In Memoriam, Yasmin Ahmad, Film, Filmmaker

Around in the neighborhood where Walski lives, the heavens were crying when he woke up this morning. Apt, perhaps, to accompany the sadness that the nation feels today.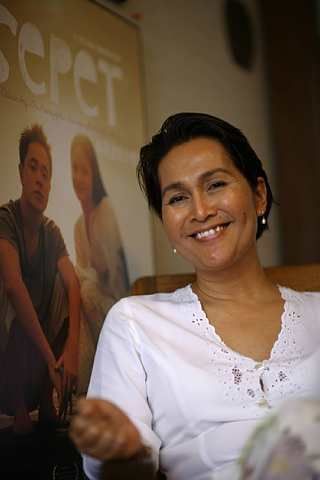 This post is one he dreaded he'd have to write, ever since Walski heard about Yasmin's stroke last Thursday. At the very least, not have to write for a while yet. We all prayed, and hoped, Walski's quite sure. But sometimes, it's not up to us to decide. Or even wish. Unlike taxes, the other certainty in life, we can't ever predict when our time is due.
The news of Yasmin Ahmad's passing came as a shock to many. Walski got word about an hour after she passed on, peacefully he's told, at around 11:25pm last night. The Twitterverse, once again, was abuzz with (mostly) kind thoughts and prayers, for the loss of whom Walski considers a Malaysian cinematic icon – the most important person in our fledgling film history since P. Ramlee, as far as Walski is concerned.
She was laid to rest earlier today, around 12:40pm at the SS20 Muslim Cemetary in Petaling Jaya.
Malaysia has just lost a cinematic icon, exactly one month to the day the world lost a music icon in Michael Jackson. Ironically, both passed on at the age of 51.
Yasmin Ahmad's work in film and television appealed to many Malaysians across the divides of culture and faith, something the nation hasn't seen, in Walski's opinion, since the passing of P. Ramlee. And not just at home, either – Yasmin's work received critical acclaim in international film circles, as well.
And who can forget the iconic series of television commercials she made for Petronas?
Today, Walski, like the rest of the nation, mourns the passing of a true Anak Bangsa Malaysia. And it was probably with that realization the the heavens wept this morning.
(mourning the loss of a great talent, and more, in the full post)
Walski's no poet, nor can he write anything seriously profound. It's damned near impossible for him, therefore, to properly pay tribute to someone who leaves behind a lasting impression of how we ought to be as human beings. Her uncompromising ideals, translated to celluloid, made us realize one very important thing – we are all, after all, human. The differences between individuals is nothing more than noise – it's the commonality that is, after all, more important.
Of all the Twitter and Facebook messages that Walski has seen since early this morning, a deceivingly simple, yet particularly poignant one that sticks in his mind is the following tweet, penned by Walski's online and real-life friend, Ahmad Kamal Abu Bakar (whom Walski owes a dark brew several times over):
"Your films changed a generation. This generation will now rise to break down more walls of ignorance. Rest in bliss, Yasmin."
Ahmad Kamal Abu Bakar's generation is one that's slightly younger than Walski's own, and so these words are indeed comforting. And yes, there are numerous walls of ignorance that need breaking down in our lives. One thing for sure, Yasmin did facilitate the deconstruction of ignorance and bias through her films.
Not to say that Yasmin Ahmad didn't have her share of naysayers and brickbats, particularly from those critics whose minds have already been irreversibly honed and shaped by the rigid and dogmatic view of life. Those who felt religious dogmas are things ordained and written in stone didn't take kindly to the fresh viewpoints and perspectives that Yasmin showed us.
But Yasmin took these criticisms in stride, and treated them as challenges. And to Walski, inability of those who could only see her work in a negative light… well, their loss, actually.
Walski thinks that Malaysia has only become richer in spirit, for the right reasons to boot, because of Yasmin Ahmad's work. He hopes that it won't be too long a while before like-minded talents come to the fore. Yasmin left us at a time when her continued vision is what we sorely need. But as Walski mentioned before, sometimes it's not up to us to decide. When the time comes, the time comes.
And you know what? The best way we can honor the memory of Yasmin Ahmad is this: if each and everyone of us pledges to make her vision of a color-blind and creed-irrelevant Malaysia a reality. It's not an impossible task – Yasmin's showed us the way, after all. In the end, it really is up to each and every one of us. That, at least, is what Walski himself pledges he will do – work in his limited capacity as an individual to achieve.
Ironically, one of Yasmin's works that she did earlier this year for Singapore's Ministry of Community Development, Youth and Sports (MCYS) was themed on a eulogy at a funeral. And it is fitting, he thinks, that Walski ends this post with that very piece.
Humans are imperfect, but humans are probably the only species that are aware of their imperfections, and can do something about it. Like all humans, Yasmin was not perfect. But try she did, and in most cases, she succeeded in giving us something meaningful to ponder upon through her work.
But it's the perfect imperfections that made up Yasmin Ahmad's life that Walski chooses to remember her by. Imperfect as she was, what she gave us was the hope that one day, we, too, can all be as colorblind as she was.
Rest in peace, Yasmin, you will be sorely missed, but never ever forgotten…