Technorati tags: Music, NIИ, Nine Inch Nails, The Slip, Singapore, Music Scene, Control

If you're the type of person who thinks that Nine Inch Nails is something you buy from the hardware store, or KoRN is a type of misspelled breakfast cereal, this post is probably not for you.
Unless you wanna learn something new – in which case, by all means, do read on.
As some of you may already know, NIИ (as that non-hardware implement is also known) will be performing in Singapore, on August 10th at Fort Canning Park. Pre-Sale tickets (with priority entry, and cheaper than normal or day-of-show prices) are now on sale, via Tickets.com.
Despite the fact that NIИ does have a fan base in Malaysia, like many other music acts, once again Kuala Lumpur has been bypassed. NIИ is scheduled to play 5 dates in Asia, and Singapore will be one of them (the other 4 being Manila, Osaka, Taipei, and Tokyo).
And being bypassed doesn't surprise Walski one bit. We're not exactly a friendly nation when it comes to music that our younger set enjoys. If it's not the self-appointed morally-policing retards making a fuss, it's the government authorities acting as if on behalf of the self-appointed morally-policing retards.
Last month, adding another blot to the international concert scene, the funk/hip-hop outfit N.E.R.D. (which stands for No one Ever Really Dies) allegedly had an unpleasant experience with the Malaysian Immigration, which questioned the group after their performance at The Sunburst '09 music festival, because they didn't have a permit to perform (which was applied for – twice – and rejected – twice). "Allegedly", because there are conflicting stories surrounding the incident (via Junk). How KoRn managed to perform without hassle is anybody's guess.
In any case, whatever really happened, the group cancelled their Jakarta date (via The Jakarta Post), and Malaysia gets the credit, proudly maintaining Kuala Lumpur on the avoid-like-the-plague list of places to perform. 
(sealing the industry coffin with Nine Inch Nail, and more, in the full post)
Over the years, many quality acts have decided to skip our shores, sometimes going to Bangkok, Jakarta or Singapore but skipping KL on the same tour. Davide Bowie, Red Hot Chili Peppers, Depeche Mode… all opted to play in the island republic instead of here. More recently, Coldplay, who performed at the Singapore Indoor Stadium on March 23rd. And also Kaiser Chiefs, who will be playing at Fort Canning Park tonight (via Pollstar.com).
Oh well… that's what happens when the country is on this continuous slide down the slopes of conservatism. And is anything going to change now that we have a new Prime Minister? That, rock fans, is something we'll just have to wait and see.
In any case, Walski may or may not be going to the NIИ gig in August. It all depends on the time constraints put upon him by the various forces of nature that governs his world.
Which would be a shame if he couldn't go, actually. He's been an NIИ fan ever since Trent Reznor, multi-instrumentalist frontman, released Pretty Hate Machine way back in 1989, while Walski was still deejaying at his college radio station. In an age where electronica was often associated with Gay White Disco (which is not all bad, actually), NIИ's debut was a breath of fresh air. It combined electronica with the head-on angst, rebelliousness and frustration of punk.
But the sound that defined Pretty Hate Machine would soon change, evolving to become the sonic experience that is today's NIИ – a manic cocktail of electronica, ambiance, grunge and in-your-face rock.
NIИ emerged at a time when industrial electronica was still considered cutting edge and to some extent underground, with contemporaries like Ministry, it's alter ego Revolting Cocks, Skinny Puppy, and Front 242. Today, industrial metal is almost mainstream, further evolving to include crossover genres (sometimes combined with funk and hip-hop).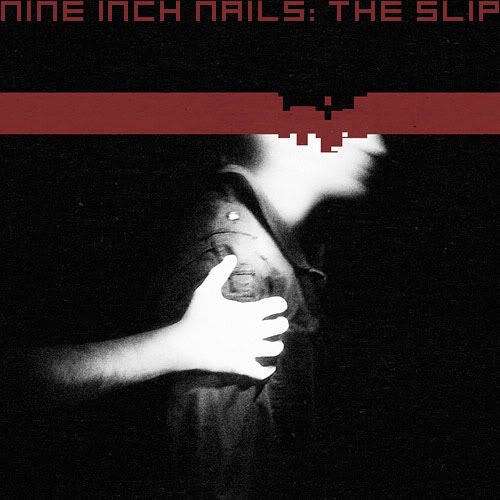 But NIИ, evolved though it has over the years, maintains its own place in the world of music, and is still one of Walski's all time favorite acts.
Incidentally, their latest release, The Slip, is available online for FREE. Legally. There are a few versions available (including FLAC high def lossless and high definition 24/96 formats), and he's opted for the high quality MP3's, amounting to about 86 MB, in a zip file. Walski will try to do a review once he's managed to download it (which with the not so blazing Streamyx speeds will take about 3 hours).
You might be thinking, so what if foreign acts don't get to come to Malaysia? Doesn't that provide protection for local artistes?
The truth is that the Malaysian music, like any of the other creative arts, including film, face all kinds of constraints. For one thing, you never know whom you may offend. And when you manage to offend the right (i.e. wrong) people, it may lead to some very real-world legal problems. Remember GoatGate?
It's all part of forced social conditioning – conform, conform, conform. And when conformity is shoved down the throat, what usually suffers is creativity. "Safe" becomes the operative word, ensuring survival. Safe translates to mainstream, which further translates to bland and boring.
Which is why, in comparison to Indonesia and the Philippines, our music scene is less than vibrant. On all levels. On the one extreme, indie music (particularly the metal genres) has to be done on the sly, lest the authorities come a-calling.  On the other end of the spectrum, Malaysian mainstream music is just too safe, too middle of the road, and frankly, vanilla-plain boring and mediocre.
Compounding matters is the hefty fee imposed (at least true in KL) on entertainment outlets that wish to have live performances (of any kind, and not limited to music) – something to the tune of RM 15k in licensing fees a year. And when such a hefty investment is required, what entertainment establishments usually go for is the lowest common denominator money-maker – cover bands.
Unoriginal music for the unimaginative masses, conditioned to become Top 40 music consuming automatons, force-fed on overplayed radio pop covers. Popular covers good…. original bad. And like fast food, totally unsatisfying for the more musically discerning.
Making it hard for foreign original music acts to perform in this country is just the tip of the musical rot iceberg. Not realizing that folks who love music are going to get access to the music anyways, the tried and true methods of suppression are deployed.
Strange, but we live in a country where mediocrity is almost celebrated. We want excellence, and yet put in place all kinds of constraints and interference that ensure achieving said excellence becomes next to impossible. And then we blame others when we don't achieve the greatness we dream of.
And that is what we've become – masters of our own mediocrity. It's almost as if we're nailing our own coffin from within, one nine-inch nail at a time…