Technorati tags: Sufiah Yusof, News of the World, Tabloids, Perpectives, Political Opportunism


The story of Sufiah Yusof, child math prodigy - whom at one point in time Malaysia proudly claimed as her own - first came to Walski's attention via Rocky's post.
This post, by the way, is not going to follow all those other reports that you've probably already read, ad nauseum. Walski has a different perspective.
And if you happen to browse thru the various blog posts already done on this story, the sentiments seem to be the same... "oh, she needs to be saved... have to bring her back to the right path... we have to save her" - ya-da, ya-da, ya-da...
Walski wonders if anyone realizes that:
She's not a Malaysian citizen
She's of legal age, and under British law, has the right to determine what she does to/with her own body
Her mother may have been born in Muar, Johor, but apart from that, Sufiah is as much Malaysian as Walski is Zimbabwean
And politicians being politicians, ours were quick to pounce on the opportunity to be seen as saviors of those whom they have absolutely no jurisdiction over (via Bernama):
The Prime Minister's Department and the Malaysian Missionary Foundation (Yadim) will try to assist former child maths genius Sufiah Yusof, now aged 23 and fending for herself as a prostitute in Salford, Manchester.

Minister in the Prime Minister's Department Datuk Dr Zahid Hamidi said they would help the gifted girl to return to the right path through the "

Save Sufiah Programme

".

"The first thing we should try to do is to contact her mother or arrange a meeting with Sufiah to find out the real reasons for her to turn to prostitution, offering her services through the Internet and using the name Shilpa Lee," he told reporters after attending a biefing by Yadim here Tuesday.

It has been reported in the "News of the World" that Sufiah is now a 130- pound an-hour hooker operating from her dingy back street flat.

The "

Save Sufiah Programme

" is headed by Deputy Minister in the PM's Department Datuk Dr Mashitah Ibrahim who will come up with strategies to assist Sufiah as soon as possible.
(source: Bernama)
Walski really wonders - exactly what are we trying to save Sufiah from?
(what we think we're saving Sufiah from, and more, in the full post)
Are we trying to save her from a (estimated) £130 per hour, £60,000 per year job (approximately RM 380k per annum - damn... even Walski doesn't make that much)?
Are we trying to save her from doing something she's quite happy doing?

For a different perspective, read this follow-up report, also from The News of The World. Yes, the original expose was shocking, but one-sided. The follow up has Sufiah telling her side of the story.
Are we trying to save her, bring her back (against her will), and then throw her into rehab?
And who's gonna foot the bill for this "Save Sufiah Program"? Most likely, it will be Walski and you - the Malaysian tax payers, that's who.
And exactly what business does the Ministry of Higher Education have in spending our tax money to assist someone who's not even a Malaysian citizen, for starters, and secondly someone who's not screaming for financial aid? Or any help, for that matter.
The fate of maths genius Sufiah Yusof, 23, who created world news by entering Oxford University at age 13 and now selling her body for a living has also drawn concern from the Higher Education Ministry.

Its minister Datuk Seri Mohamed Khaled Nordin said he would ask the Malaysian Student Department (MSD) in London to look into the matter and what drove the gifted girl to resort to prostitution.

"Based on the MSD's report, we will find a way to help her, and see whether it's really because of her financial problem or there are other reasons," he told reporters here Wednesday.

Mohamed Khaled said the early report received indicated that her action was not due to her wanting to finance her studies as she had left her studies some time ago, but could be due to her family problems.
(source:

Bernama

)
Yes, use the MSD resources, why don't we? To be fair, however, later in the same Bernama report, Minister Mohamed Khaled Nordin did add this very important caveat:
Mohamed Khaled said although the ministry was keen to help her, it had its constraints and it would also depend on Sufiah herself.

"She's 23 now and she's also a British citizen. She has the right to do what she wants... so our role is limited," he said.
(source:

Bernama

)
Walski would add that there is NO role to speak of.
If Walski sounds cold-hearted, he's actually not. The point here is that we need to put things in their proper perspective before jumping in head-first - as "noble" (and Walski's using the term very loosely here) as our intentions may be. Like a lot of things political in Malaysia, there's too much after-thought, and not enough thinking up-front. Sometimes, NO thinking up-front. Like in this case.
So yeah, Sufiah's story does tug at our heart-strings and personal morality... but we're not talking about someone being threatened, trafficked, and forced into prostitution, and walking the streets peddling her wares - you know, the sordid picture that the word prostitution tends to conjure.
Judging from her own side of the story, it would appear that Sufiah is a much happier individual today, compared to the hell she went through growing up in an abusive environment, driving her to run away from home at an early age. Her father, incidentally, is at present serving time for sexual assault on two of his students. The original expose by News of the World had this to add (emphasis by myAsylum):
One message to her sister read: "

I've finally had enough of 15 years of physical and emotional abuse. You know what I am talking about.

"

Sufiah was missing for two weeks before being found in an internet café in Bournemouth where she had been working as a hotel waitress.

She refused to go back to her parents and instead was taken into the care of social services.
(source: News of the World - CAUTION: contains NSFW images)
Walski won't speculate as to exactly what kind of physical abuse Sufiah went thru. And here we are trying to "save her"... when it's pretty obvious that she's managed to save her own self, on her own accord, and on her own terms.
We've got loads of folks who prostitute their souls to the highest political bidder, right here in our own backyard... you don't see the multitude of folks crawling out of the woodworks to save them, now, do we?
Don't get him wrong - Walski is not promoting prostitution as a viable career. Bottom line is that this is what Sufiah has chosen, and it really is not up to us to force her to do something else, especially if what she's doing now helps her have a better life. Still, Walski can't help but feel obligated to add this warning message displayed at the end of the video interview, from News of the World.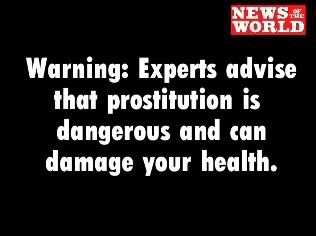 And in Malaysia, the criminality associated
with prostitution will probably "kill" you faster...
And no, Walski doesn't know which experts say this....
Walski may not have the highest of opinions of sleaze tabloids such as News of the World (they have had their fair share of false reporting), but in this case, the story that they chose to highlight, sensationalized as the original may have been, was followed up with the subject of their exposes being given a chance to tell her side of the saga. At least they practice fair "journalism" (some would use that term loosely when talking about these kinds of tabloids).
But finally, back to our motherland, and the brouhaha that this story has conjured, with the politicos scampering to make themselves look good - if you were to ask Walski, this Save Sufiah Program suspiciously sounds like a get-rich scheme that's going to benefit a few well-connected people - none of them being Sufiah Yusof herself.
Walski's post title afterthought footnote: Originally, Walski was going to call this post "Saving Sufiah's Privates", pun-ting on a famous film title. But after thinking about it, that would've been a little crass on Walski's part. Still, it would've been a nice 'n naughty post title... Also omitted was a racy shot of Sufiah, from taken from the News of the World video interview... it would've just been a bit more exposure for Sufiah than necessary (pun intended)...