Technorati tags: New Year 2008, New Year Wishlist, Malaysia, Poll


So, which illegal gathering did you attend to usher in 2008?
Even before December 31st rolled around, Walski had already decided that he would boycott the festivities at Merdeka Square, or anywhere that would have been graced by BN big-wigs... especialy since Merdeka Square has totally lost the meaning of its name, following the threats from the police towards GMI some weeks back...
Instead, Walski decided to spend the remaining seconds of 2007, with the Mrs, and a small group of close friends in the Mont Kiara area, and watched the so-so fireworks at Plaza Mont Kiara. Unlike blogger zh1yong, who hiked up Bukit Tabor, and ended up getting a splendidly spectacular view of Kuala Lumpur, and several fireworks displays from around the city.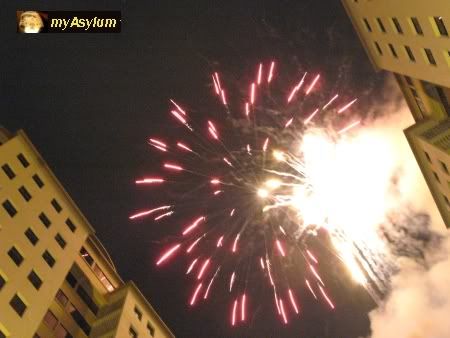 Let's hope 2008 will be more than a burst of light...
Nah... in comparison, Walski's eve was less than spectacular. But more importantly, he got to spend it with Mrs. Walski, and a group of people he really cares for.
And speaking of caring, Walski has just unleashed a new poll - the first for 2008 - and it has to do with what you wish would happen this year. You can see the poll at the top of the left sidebar. Unlike previous polls, you get to choose up to 3 answers.
So, what are the three things you'd most like to see happen in 2008?
(2008 wishlist poll, and more New Year's eve pix, in the full post)
Walski's wishlist for 2008 is long - much longer than the Vizu poll system allows to place. So he had to pick the nine things he wants most to happen this year (one of them is kinda repeated, making the list ten items long). There's more of course - like world peace, and harmonious relations among all inhabitants of planet Earth, an end to war and fighting anywhere... and good music.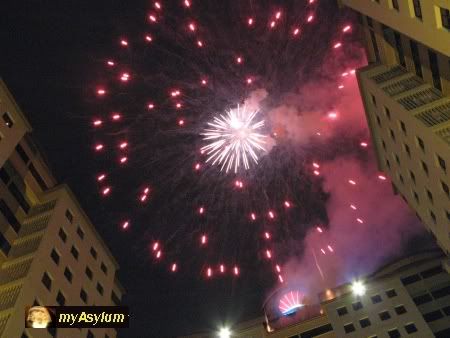 More bursts of light from Plaza Mont Kiara...
On one New Year's Eve, many years ago, Walski decided to no longer make any New Year resolutions... which, in fact, is a resolution he's actually managed to keep up till now, over 10 years later. But Walski will make one small exception this time around.
Walski's resolution: to help make Malaysia a better place for all Malaysians. Walski loves this country. But loving one's country doesn't mean one has to love the current government, nor its policies in toto. No... that would be parrotism, not patriotism. Patriotism means to love one's country and to work towards making it a country for ALL to be proud of, not just an elite few - be it political or religious elite.
And Walski will continue to do his small bit to highlight the silliness, and fight the good fight, towards one simple, but important end - for a Malaysia that ALL Malaysians can proudly call home.
Once again, Happy New Year, people. And don't forget to tell your buddies about Walski's new poll!
Walski's post title explanatory & credit footnote: The first part of the post title is, of course, a take on Aldous Huxley's well known book, Brave New World - we, too, are fighting our own kind of Soma, albeit our mind-numbing experience comes not from any single substance, but from the mess we call our government of today...