Technorati tags: Aviation, Indonesia, Adam Air, Flight DHI-574, Budget Airlines


Walski has been following the news developments surrounding the Adam Air Boeing 737-400 that went missing on New Year's Day. Developments that have been confusing, due to the conflicting information picked up by news services worldwide.
Adam Air Flight DHI-574 went off the radar roughly midway during a scheduled flight from Surabaya, Java to Manado, Sulawesi, on January 1, 2007. The last tracking information puts the aircraft at about 35,000 ft, somewhere near the western tip of Sulawesi island, some 200km north of Makassar. Reports that the wreckage, together with 12 survivors, have proven to be false, and as of this afternoon, there is still no sign of the aircraft, or traces of a crash site.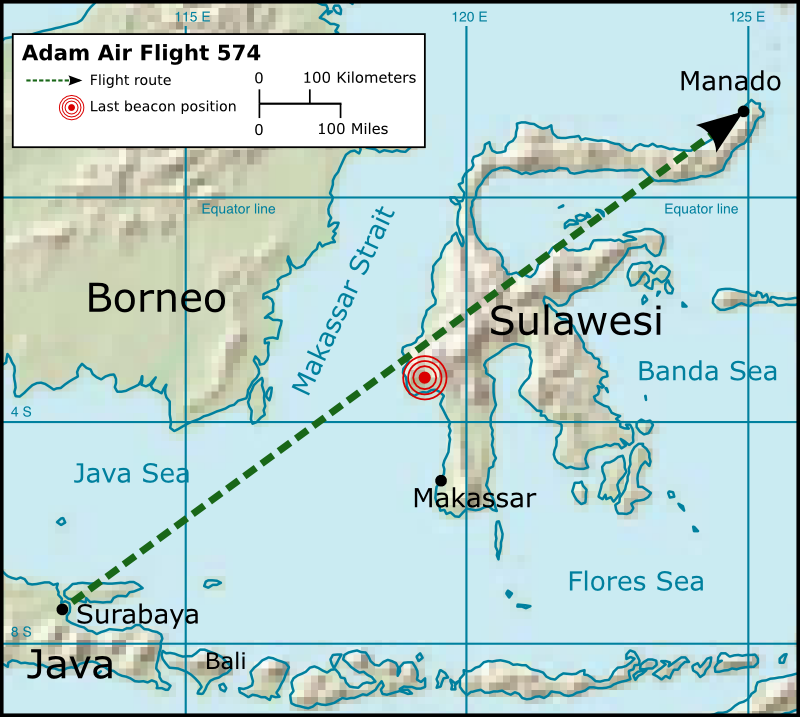 DHI-574 flight path and last known location
Singapore has joined in the international effort to locate the aircraft, but the disappearance has baffled aviation experts - it literally disappeared. There had also been reports that there was a mayday signal issued by the pilot - which turned out to also not been true.
Indonesian authorities have urged that no speculation be made on the fate of the aircraft and its 102 passengers and crew, until the aircraft can actually be found.
BBC and CNN have both reported this afternoon that the search area has been widened to the north and west of where the last beacon signal was detected. The decision to do this has been based on calculations of the possible paths that the pilot may have taken to avoid bad weather at the time.
This latest incident has raised safety concerns surronding budget airlines. Has the quest for profitability caused some airlines to not adhere stringently to safety regulations? Specifically, Adam Air has not had a very good track record when it comes to safety, including an incident in February 2006 when another of its 737's experienced navigation systems failure, and was forced to make an emergency landing (source: Aviation Safety Network).
myAsylum will post updates on flight 574 as and when any new developments are reported. So far, no Malaysians have been reported to be onboard. A flight manifest (passenger list) has been published online by Kompas Cybermedia, and can be viewed here.