Technorati tags: Anniversary, Blogging, One Year, myAsylum


Today, this blog passes an important milestone (or 1.6 kilometerstone, if you're metrically inclined). Why? Because 365 days ago, myAsylum was born.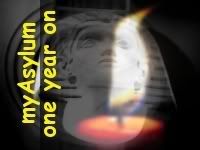 Little did Walski realize when he started this blog one year ago that it would even survive this long. But it has, and today, it celebrates it's first anniversary. The reach that myAsylum has gotten over the last 12 months has been beyond Walski's wildest expectations. And for that, Walski thanks YOU.
Yes, you, the person looking at these words, as they are being read. You, the readers. Thank you.
It's really true what they say - time flies when you're having fun. And the experience over the last year getting this blog off the ground - and keeping it afloat - has been a blast.
And the next 365 days? Or even beyond that? All Walski will say for right now is this - myAsylum as you know it, will not be, for very much longer ... Cryptic enough for ya?
Stay tuned. And once again, thanks for the last 365!