Technorati tags: Blogging, Blogger, New Blogger, HTML, CSS, Technorati, Tags, Labels, Aggregators


Apologies for not posting more frequently, but a few things got in the way. Apart from work, and home, the New Blogger became a distraction as well.
In case you hadn't notice (and in all likelihood you didn't), myAsylum migrated to the new Blogger Beta platform sometime in late November. In a grandiose attempt to migrate everything to the new platform, Walski discovered that Blogger Beta does things somewhat differently when it comes to the template. Fortunately the developers took into consideration retaining the use of the classic templates, otherwise this blog would have looked very very different all of a sudden.
Well, as of a couple of days ago (December 19, 2006), Blogger Beta is officially DEAD!
Finally out of Beta: The New Blogger is officially here
Long live the NEW Blogger!
And Walski's been a tad busy playing around with the new platform, using a test-blog, called myAsylum reLoaded. Not much on it at the moment, other than a few test posts and trying to implement some of the tweaks Walski had made to the original myAsylum (as in the blog you're currently reading) - things like images in the blog title, AdSense, 3rd party Java script applets, etc.
But if there's a feature you'd like to see (at some point) on myAsylum, drop Walski a line or comment, and we'll see what we can do to accommodate.
(more reloaded Blogger thoughts in the full post)
So, does this mean that the myAsylum that you've come to love (or hate, depending on who you are) will disappear? Not in your wildest dreams... It may look a tad bit different in the near future, but this blog ain't going anywhere. The reLoaded blog may stay around as a testing ground blog, or may evolve into something else - not sure yet. But rest assured that myAsylum will remain.
Just how different is the New Blogger? Well, for one thing, gone are the days when you have to traverse thru your entire template code just to change something or add something to your blogroll. Blogger has introduced the Widget concept (yeah, yeah, nothing new here, but new to Blogger), which allows you to manipulate only portions of your HTML modularly, specific to what you want to add or change.
And related to that is one of the coolest New Blogger features - layout drag 'n drop. It makes managing your layout a lot less tedious.
But for geeks like Walski who love to get their hands dirty in CSS and HTML, the New Blogger allows you to do that as well. Walski won't get into the nitty gritty of coding here, but there's lots you can do with the new platform, which you couldn't (or could, but not easily) do with the classic Blogger.
Some things which were only possible with template tweaking have now become standard - like tags, drop down menus (for your archived posts), are all standard features on the new platform, and the ability to show/hide your lists (like blogrolls), therefore reclaiming some sidebar real estate for other things. And this is customizable without any coding whatsoever.
Fret not, though, if you're still on the Blogger Classic platform, as the Blogger team is still keeping the older platform alive. But Walski believes that they will be bugging you to migrate in due time. From a product development & support point of view, it's too much trouble maintaining two separate platforms in the long run.
Blogger, at long last, has introduced tagging, or Labels in Blogger-speak, which makes it easier for you to group your posts according to subject matter. This, of course, is nothing spectacular for the blogging world, but new to Blogger. However, since Walski's gotten so used to Technorati tags, that he thinks he'll keep these as a regular post feature anyway. The Blogger labels will simply be used to organize the posts internally to the blog.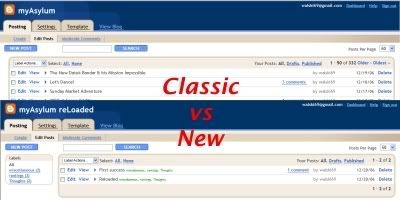 Classic vs New: The new GUI only comes into effect once you switch to the new template
Another nice thing that's been incorporated is immediate template or setting changes, when you click the Save button. No more dreaded Blogger spinner!
There are other features, of course, but we'll not get into it right now. What is not there - yet - is the ability to auto-ping aggregators of choice, but Walski reckons this could possibly be done using the 3rd-party Java/HTML widgets (haven't tried yet).
So, for those of you who are on Blogger (Classic or New), or are new to this thing called blogging, the following sites may be useful, and of interest. Hopefully you'll find these sites helpful, as Walski has. It's tough being a blog newbie - but live & learn, that's what Walski always sez. Oh, and share your toys, too.
Once again, sorry for getting distracted with other things, causing this blog to not be updated as frequently as Walski would like. But it's been a good distraction...