Technorati tags: Politics, Malaysia, UMNO, Puteri UMNO, Wanita UMNO, Mothers Of Prevention, Frank Zappa, Music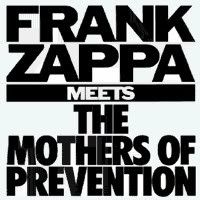 Background (from Wikipedia): Sometime in the mid-80's, wives of prominent United States politicians, led by Tipper Gore (aka Mrs Al Gore), set up what was called the Parents Music Resource Center (PMRC), whose moral high-horse mission (among others) was to force record labels to put warning stickers on any music which contained explicit lyrics, or adult subject matter. The PMRC's campaign later escalated into a formal Senate hearing, during which Frank Zappa, along with Dee Snyder (of Twisted Sister), and John Denver (yes, that John Denver), testified at the hearing. The PMRC evoked all kinds of anti-Tipper sentiments, expressed in music, by musicians who saw the PMRC as a threat to free speech and freedom of expression.
The PMRC, to an extent, prevailed. At least in the area of having the record labels voluntarily placing warning stickers on music containing explicit language (now you know the history behind these stickers). The real backlash came later on when prominent department stores (such as Wal-Mart, J.C. Penny, and Sears) due to pressure from the ultra right-wing Christian lobby groups,
Voice recording excerpts of the hearing were later used by Zappa, and turned into a track called "Porn Wars", which became part of the US release of "Frank Zappa Meets The Mothers Of Prevention", the Mothers of Prevention of course referring to the PMRC.
Walski has come to the conclusion that the UMNO General Assembly is a little bit like watching Animal Planet, National Geographic or Discovery - the latter two when the focus is on the animal kingdom.
While a previous post focused primarily on the display of male testosterone overload, this one looks at how the female side of the animal kingdom wants to prove that it too has balls.
Two news articles come to mind, one from the NST and the other from Bernama (Hat-tips to The Malaysian and Rocky's Bru).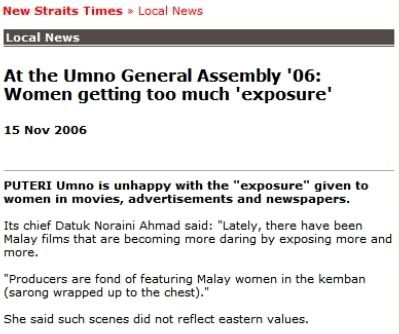 Like with photography, Puteri UMNO is allergic to overexposure
It's bad enough that we have to contend with conservative Islamist wanting to make Malaysia a restrictive living hell. Now we have the new Mothers of Prevention to deal with. It is interesting, however, to look at some of the things Datuk Noraini Ahmad had to say in the NST article (emphasis by myAsylum).
"Lately, there have been Malay films that are becoming more daring by exposing more and more.

"Producers are fond of featuring Malay women in the kemban (sarong wrapped up to the chest)."

She said such scenes did not reflect eastern values.
Which makes Walski wonder - which part of the western world does have the women folk in sarong wrapped up to the chest? Another juicy quote from the same article:
Noraini also criticised "an English tabloid" for an article published on Nov 4 entitled Let's Talk About Sex which she said openly discussed sexual behaviour.
This, of course, alludes to the well-known fact that humans (particularly of the UMNO animal kingdom) breed through bud-grafting, and not through sexual intercourse. Either that, or there must be some truth about the bangaus (storks) being responsible for baby delivery.
Which probably explains why some of the fiery rhetoric and incindiary remarks made at the assembly were so bird-brained.
(more Mothers of Prevention in the full post)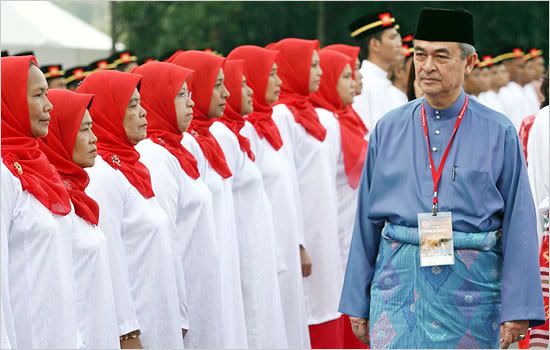 Militant Makciks - the NEW Mothers of Prevention (source: IHT)
The target of restrictive actions called for by Puteri and Wanita UMNO the New Mothers of Prevention were far reaching, including foreign Bahasa Malaysia dubbed soap operas, the popular cartoon Crayon Shin-chan and even how some minister's wife's dressing. From the Bernama report, quoting Wanita UMNO delegate Rahimah Idris (emphasis by myAsylum):
She also called on Abdullah to take stern actions against Cabinet wives who wear sexy clothes in public.

"We, as women, feel very embarrassed. We teach our children to dress decently, to wear the scarf, but the action or one minister's wife puts us to shame," she said.

She claimed that the minister's wife, whom she did not name, was not even decently dressed at her former husband's burial recently.
Poor Datin Tiara... yes, the New Mothers of Prevention do get bitchy, don't they? It's tough being a minister's wife when you're attractive. Perhaps the New Mothers of Prevention should focus on how to improve their own self-image (internal and external), rather than to publicly shame other better-looking females just because they "put us to shame". But wait... isn't that the job of the Fashion/Culture/Museum Police, rather than the PM? Maybe the New Mothers of Prevention should look at how to improve their own grooming (and attractiveness) rather than bitching about how other people look to them.
Funny enough, however, sexual innuendos within the General Assembly itself were somehow more than tolerated (as very shrewdly pointed out by buddy Howsy).
And of course, to "safeguard" our morals, the path usually taken is ban, restrict and police. In the process, making Malaysia the wonderful hell-hole that the country will probably end up becoming, due to the ongoing War on Everything being waged between UMNO and PAS, in their quest to gain Malay mindshare and votes.
Make no mistake about it, folks - at the end of the day, after all the dust and hot air have settled, it's all about politics, politics and nothing but politics. The New Mothers of Prevention, through their display of testosterone-induced bravado, and nay-saying, are positioning themselves to ensure that more restrictions on society are what we can all be looking forward to. Peppered, of course, with the required rhetorical hatred and spite for others, that no General Assembly can do without.
But because this year's UMNO General Assembly has gotten an unprecedented amount of coverage (including live telecast on ASTRO), the incindiary remarks, thuggish racial threats and plain stupid bird-brained behavior will not be so easily forgotten. Already, the Animal Kingdom antics of the Assembly have been picked up by foreign news services and given worldwide coverage, raising (deserved) concern in the process. Hate politics aren't exactly the best attractors of Foreign Direct Investment.
And for the thinking Malaysian voters like Walski - not so easily forgiven, either.
The late Frank Zappa, had he been alive and in Malaysia the past week, would have really had a field day...